Monsters can be scary, but some of them can be quite cute too.  There is nothing to be frightened of with the cute ones…. actually, they are very friendly.  In this post I will show you how to make a Monster Bookmark perfect for protecting over your spot when you are done reading.  And, this monster might look quite cute, but he is plenty tough to make sure your reading spot stays safe.
Check out our other Halloween Crafts.
Laura from  Dacian Moon Handmade  will show you, step by step how to make it.
CRAFT MATERIALS NEEDED:
– colored cardboard
– white cardboard
– ruler
– paints
– scissors
– paintbrush
– pencil
– pen (optional)
– glue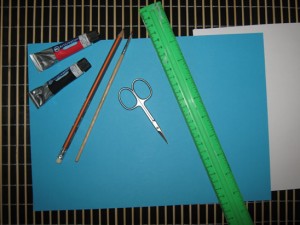 Step 1
Take the colored cardboard. Measure 10 cm on one side of it…
… and 10 cm on the other (near the same corner)
Measure 5 cm on both sides too, than draw two rectangles like in the picture.
Step 2
Unite two opposite corners on the exterior small rectangles…
… like this.
Later we will cut off the marked triangles.
Step 3
Cut out the drawing…
… and the two triangles.
Step 4
Using the paints and paintbrush decorate the central part.
I am making points with red paint…
Then, using a black pen I cover the space between the points…
… like that.
I want to create an illusion of scales, so I add some purple color.
Let it dry.
Step 5
Fold one triangle over the painted part…
… like this.
On the other triangle add a layer of glue…
… and bring it over the central part.
Step 6
Decorate this triangle too.
Step 7
Draw two circles on the white cardboard…
… cut them out…
… and glue them…
… on the new decorated triangle (after its dry, of course).
Step 8
Do the same with the colored cardboard (two circles a little smaller).
It will look like that.
Step 9
Now, we will make the monster teeth. You can measure with one colored triangle.
We must take care to have an extra place that will go inside. Apply a layer of glue on that extra place and fix it…
… like that.
Now you have a cute little monster who can't wait to chew your book corners.
Isn't that a terrific little bookmark?  You can count on the fact that no one will have the exact bookmark as you.  Stop turning down the corners of your books and instead make this Monster Bookmark.
Technorati Tags: Halloween, Halloween Crafts, Monster, Monster Crafts, Crafts, Kids Crafts, Back to School Crafts, Bookmarks, Bookmark Crafts