School is back in session once again. And, with school brings tons and tons of school supplies. Instead of using the same old pencil box that everyone else is using why not make a funny case that is like no other. Check out this funny nom nom pencil case craft. Why nom nom? Because it looks like it is eating your pencils….. "Nom nom nom."
Step by step tutorial offered by Laura from Dacian Moon Handmade
CRAFTS MATERIALS NEEDED:
– a piece of a recycled pair of jeans
– zip
– 2 buttons
– white cardboard
– scissors
– needle and thread
– pencil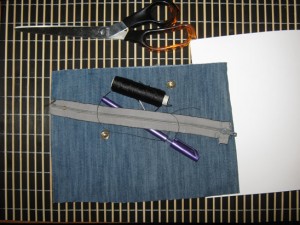 Step 1.
Take the piece of jeans and place it with the sewed part up. We will use that the way it is.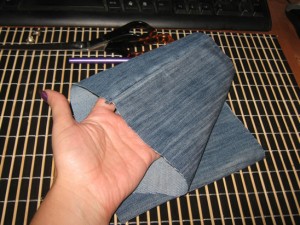 Place the pencil on it to measure if it will fit. It will.


Step 2.
Measure 5 cm from the top and cut the fabric on the front part.
On the back part cut it at 10 cm.
It will look like that.
We need the back part longer because it will close on the front.
Step 3.
From the cardboard we must make the teeth. First draw a rectangle to have a guide.
Cut it out.
Using the scissors make a criss cross cut to form the two rows of teeth…
… like this.
Step 4.
Sew one teeth row to the upper part of the fabric…
… like this.
Step 5.
Now sew the zip over the cardboard…
… taking care that the zip not be covered by the teeth.
Step 6.
Repeat the step 4 and 5 on the other side, like that.
Step 7.
Now, we must close the small sides.
First of all fold the rest of the zip on the back…
… then sew using a blanket stitch along the sides.
To make a blanket stitch, push the needle through the fabric then pull the needle through the loop.
Step 8.
Do the same on the other side.
Step 9.
Turn it inside out.
Step 10.
Choose a place where our Nomnom should have one eye…
… and sew a button there…
… then the other.
For a more alive feeling you can paint the middle of the buttons with black.
This is our Nomnom ready to chew all your pencils and pens. And your erasers too 😀
Technorati Tags: pencil case, pencil box, pencil case craft, back to school, back to school crafts