Today I'm going to show you how to make a cute Octopus toy out of yarn.  The craft is an easy one, but it is sure to be a lot of fun.  This Octopus toy would make a great gift to give to somebody this Holiday Season.  Or, if you like…. keep the toy for yourself.  Make a few and give your Octopus a friend.
Check out some of our other Toy Crafts.
Laura from Dacian Moon Handmade will show you how to make this toy step-by-step.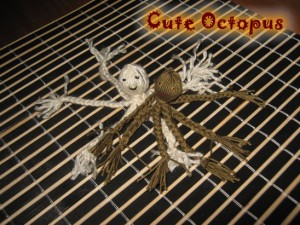 CRAFT MATERIALS NEEDED:
– string and needles
– scissors
– yarn
– glass or foam ball
– something flat – a book or a board (if you want a big octopus, you'll need a bigger book)
Step 1
Let's start by wrapping the yarn around the flat thing.
Take care not to wrap too tight or it will be hard to work with later.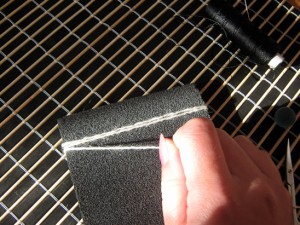 Step 2
When you have a good thickness, we can cut the end.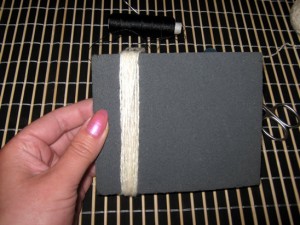 … slip it under your cluster …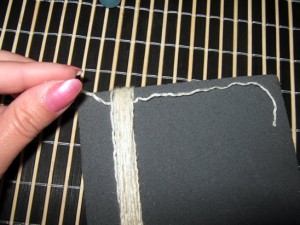 … and tie it at one edge of the book.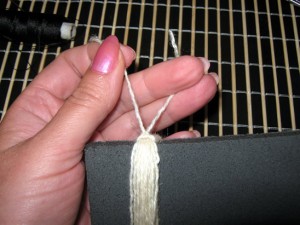 Step 3
Use the scissors to cut the opposite end that you tied on.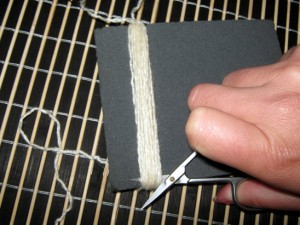 Now you should have a long bunch of string tied in the middle.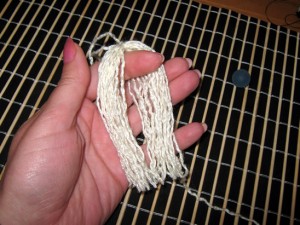 Step 4
Take the ball and tuck it under the middle.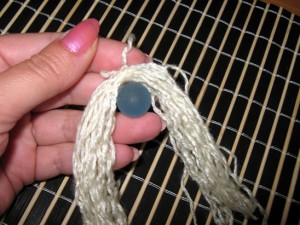 Hold the yarn under the ball. Take care to wrap the ball completely.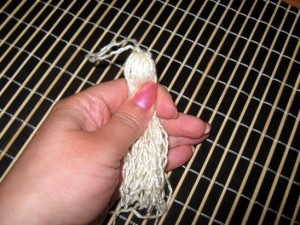 Take another piece of yarn, wrap it around the bunch a couple times and tie it with a double knot.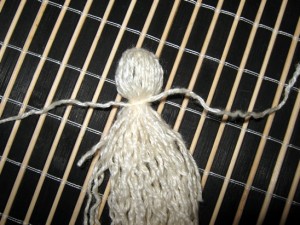 Step 5
Split the yarn in many even sections…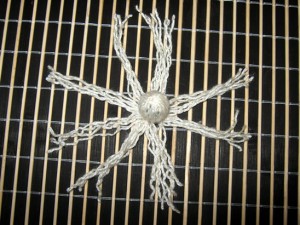 … and cut little pieces of yarn that you'll use later to tie every section.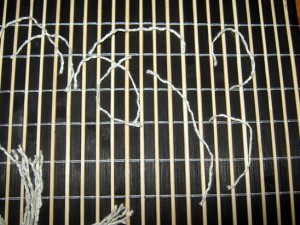 Split every section in 3 parts, braid and then tie it.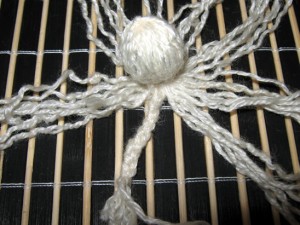 Repeat for the other sections. It's no problem if you loose some sections, but take care to have enough of them and even enough. I started with 8 sections but in the final I have only 6.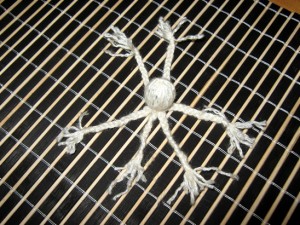 Step 6
Let's make the face 🙂
You can sew the eyes…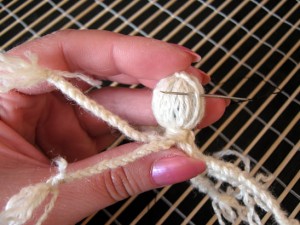 You can let a little bit of thread at every eye to make a cute octopus – girl, with long eyelashes.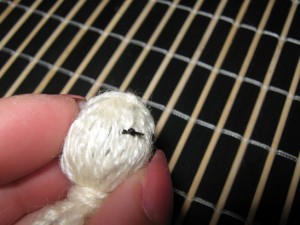 Finally, sew the mouth too.
I like trying to sew the face but you can glue beads on it or you can paint it. Just… have fun.
Isn't he cute?!  Are you going to keep him for yourself or are you going to give it as a gift this Holiday Season?  Whatever you decide to do he is sure to be loved.
Technorati Tags: yarn crafts, toy crafts, octopus, octopus toy crafts, yarn activities, how to make toys, yarn doll crafts, doll crafts, crafts out of yarn