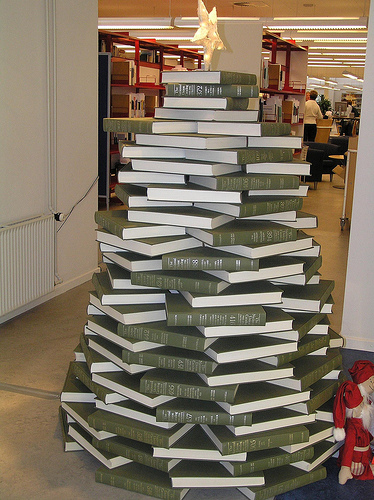 I was roaming the internet today for Christmas Trees and I couldn't believe the creativity I saw.  I just had to share with you what I found.  I found 9 Christmas Trees that are the most unique and creative out there.  There is one totally made from library books and another that is made completely from soda cans. I will share with you those and the ones in between.  So, without further ado…..
Outrageous Christmas Trees
(1) Pacman Christmas Tree
I would have loved to see this in person.  I'm sure it was incredible.  It is fully animated with thousands of LED lights.  Check out Technabob to get all the fun facts about this tree.
(2) Mountain Dew Christmas Tree
I love, love, love Mountain Dew…. so for me this tree is pure perfection.  I found this tree over at MDewTree.com and they explain that it took only 4 days to produce this Christmas tree, but took 3 months of drinking Mountain Dew.  Nice!!
(3) Ladder Christmas Tree
Who would have thought how beautiful a ladder can be.  But, as you can see…. this Ladder Christmas Tree is quite beautiful.  I found this Christmas Tree over at BeDifferentActNormal and I love the creativity.
(4) Origami Christmas Tree
Isn't this Christmas Tree spectacular?  I really think so.  I love the crispness of the paper…. It really is amazing.  You could actually purchase this Origami Christmas Tree over at Paper Productions.
(5) Shelf Christmas Tree
I absolutely love this creativity.  This might be my favorite out of all of them.  I dig how they stack the books just perfectly to create the image of a Christmas Tree.  You can check it out for yourself over at Swiss Miss.
(6) Library Books Christmas Tree
This Christmas Tree was made from green reference books at a University Library in Aalborg.  They stacked the books just perfectly to create a unique Christmas Tree.  I wonder how long this Christmas Tree took to put together.  Check it our for yourself.
(7) Glowing Christmas Tree
The above tree is pretty awesome.  Made from the bottom of green soda containers they erected this huge tree.  Talk about going green…. they certainly did with this tree.  The lights are in the inside of the tree so it glows at night.
(8) Sheet Music Christmas Tree
Ok, how unique are these trees?  So unique.  They are amazing.  You can make this Christmas Tree too.  Check out HGTV…. they have the "how-to" to create these Christmas Trees as well.
(9) Cannoli Christmas Trees
How about a delicious Christmas Tree?  There is nothing wrong with that.  I found this Cannoli Christmas Tree over at Kitchen Simplicity and it looks YUMMY!!  They have the recipe over there so go check it out.
And, there you have it…. 9 of the most outrageous and creative Christmas Trees I found while surfing the net.  Do you know of any interesting Christmas Trees?  Let me know in the comments below.
Technorati Tags: Christmas, Christmas Trees, Xmas, Xmas Trees, unique Christmas Trees, creative Christmas trees, unique xmas trees, creative xmas trees, Christmas decorations, xmas decorations