Today I have a fun Christmas craft for the youngest of crafters.  I'm going to show you how to make a Popsicle Stick Ornament.  This craft is super easy, but it is also super duper fun.  This Popsicle Stick Ornament comes out looking pretty and will look great on any Christmas tree this Holiday Season.  So, grab a popsicle stick and the rest of the craft materials needed and let's get started.
Check out our other Christmas Crafts.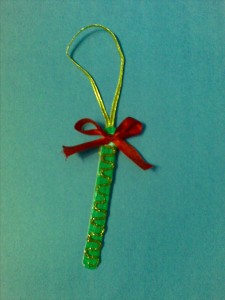 Materials Needed
Popsicle stick
Ribbon
Gold twine/ cord
Glitter glue
Green acrylic paint
Paintbrush
Tape
Step 1
Paint the popsicle stick green as shown.
Step 2
Make a design on the stick with glitter glue. You can make any design you like.
Step 3
Make a small bow with red ribbon.
Step 4
Use craft glue to glue the ribbon to the top of the popsicle stick.
Step 5
Take a piece of gold twine and tape the ends together.
Step 6
Tape the gold loop to the back of the popsicle stick.  Hang your Christmas ornament on your tree.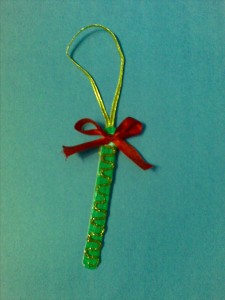 Isn't this Christmas ornament beautiful?  I told you it would be.  Imagine how proud your little one will be to see that something they made is hanging on the tree.  Let me know how your ornament turned out in the comments below.  And, don't forget to take a picture of it…. you can share that too in the comments.
Technorati Tags: Christmas crafts, xmas crafts, Christmas activities, xmas activities, December crafts, Holiday crafts, Holiday activities, ornaments, ornament crafts, Christmas Ornaments crafts, popsicle stick crafts, Christmas popsicle stick crafts, popsicle stick ornaments