Here is a jewelry craft perfect for the New Year.  I am going to show you how to make a Charm Bracelet…. but not just any charm bracelet.  This charm bracelet is made up solely of wishes…. your wishes.  How beautiful would that be to wear?  So beautiful!!  We all have wishes for the New Year…. and you can proudly wear your wishes around your wrist.  So, come up with your wishes, grab the craft materials… and let's get started.
Check out our other New Years Crafts and Jewelry Crafts.
Laura from Dacian Moon Handmade will show you how to make it, step by step.
MATERIALS NEEDED
– white cardboard
– crystals
– pins
– jump rings
– chain
– round nose pliers
– pen
– 1 lobster clasp
– optional: varnish – can be even nail polish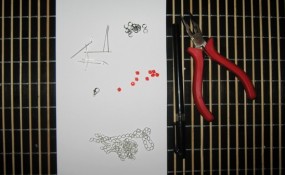 Step 1
Draw 6 circles on the cardboard (diameter ~2cm).
Cut them out.
Step 2
Write on them, on the lower part, wishes for the new year.  Some examples: love, hope, laugh, live, happy, dream.
Like this.
Step 3 – optional
Apply a layer of varnish on them – first on one side, let them dry, then on the other. This will extend the life of the bracelet and will protect it from water.
Let them dry well.
Step 4
Using a pin make holes on top of the circles. You can make the holes before varnishing them (it's easier).
Step 5
Use the pliers to open a jump ring and put it through one circle. Like this.
Do the same for all circles.
Step 6
Place the chain in front of you – it should be of the right size to fit your wrist. (You could use a cord in place of the chain, but then you should make a knot around every jump ring and circle…you will then tie the bracelet to your arm.)
Arrange all the pieces (circle with jump ring) along the chain, to see where all of them will be.
When you know their places, put the jump rings through the chain eyes… like this.
This is the bracelet with all the pieces linked.
Step 7
Take a pin…
… and put a crystal on it.
Make a loop (using the pliers) on the pin end, like this.
Now, put it on one jump ring, in front of the circle.
Close the loop.
Add crystals to all the pieces.
Step 8
Now the only thing you have to do is to add the closure part. Open a new jump ring…
… and link the clasp…
… to the chain. Like this.
The bracelet is ready!
I told you this bracelet turns out beautifully.  Don't you agree?  How proud would you be to wear this Charm Bracelet around town?  I imagine so proud…. as you made this Charm Bracelet with Wishes yourself.  Enjoy wearing it!!
Technorati Tags: new years crafts, new years day crafts, new years eve crafts, kids crafts, kids new year crafts, kids new years crafts, jewelry, jewelry crafts, new years jewelry crafts, bracelets, bracelet crafts, charm bracelets, charm bracelet crafts, jewelry crafts for kids