Today I'm going to show you how to make a bowl perfect for a Christmas gift.  This bowl would make a special gift for your Mom, Grandma or Aunt this Christmas.  It will mean so much to them and they will surely treasure it for years to come.  You will simply take a plain glass or plastic bowl and use acrylic paint to paint a Christmas design on the front of the bowl.  This craft will be a lot of fun…. almost as fun as it will be to give it as a gift this Christmas.  So, let's get started.
Check out our other Christmas Crafts.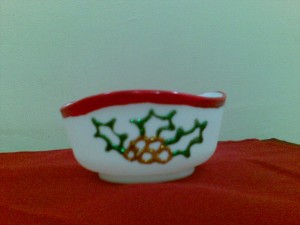 Materials Needed
White plastic (or glass) bowl
acrylic glitter glue – gold and green
acrylic paint – red
paintbrush
pencil
Step 1
Draw a line near the edge of the bowl, around it as shown.
Step 2
Paint the space between the edge and the line as shown.
Step 3
Draw holly leaves with a pencil in a few places around the bowl.
Step 4
Go over the lines with acrylic glitter glue. Allow to dry.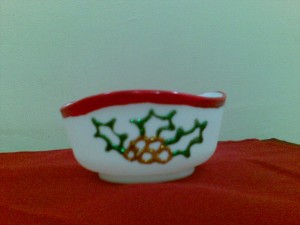 Step 5
You are done… The bowls can be washed as the acrylic design will stay.
Now, you are ready to wrap your bowl to give as a gift.  You know what you can do….. make a set of 2, 4 or 6 and give them an entire set as a Christmas gift.  They can use them to decorate the table next year for Christmas.  Now, the real question is…. who is the lucky person who is going to receive this Christmas bowl as a gift?  Hmmmmm……
Technorati Tags: Christmas crafts, xmas crafts, Christmas activities, xmas activities, December crafts, Holiday crafts, Holiday activities, decorations, Christmas decorations, Christmas decoration crafts, Christmas bowl, Christmas bowl crafts, Christmas gifts, Christmas gift crafts