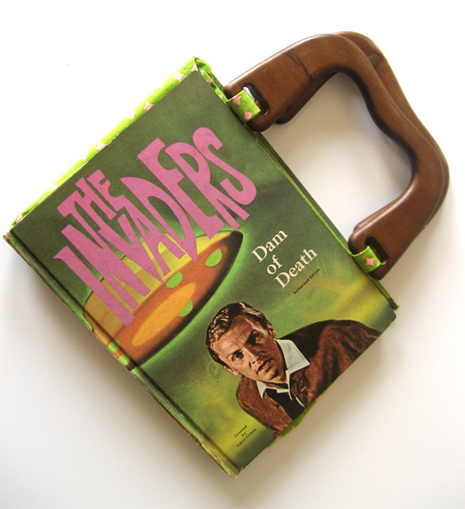 While roaming the internet the other day I came across quite a few cool crafts made from old, worn out books….. 10 of them to be exact.  They were so cool I had to show them to you.  All of them have instructions so that you too can make these creative items.  From Wreaths to a Kindle Case you are going to be surprised in the things you can do with books to upcycle them…. I know I was.
10 Cool Crafts Made from Old, Worn Out Books
(1) Rose Wreath
Look how beautiful this wreath is!!  It is just incredible.  And, the cool thing is that if you check out ByStephanieLynn you will see that the instructions on how to make this book wreath isn't that complicated at all.  And, it sounds like so much fun.
(2) Kindle Case
Look how creative this craft is…. so creative.  Here is a great way to hold and protect your Kindle…. and it is inexpensive.  I found this craft over at SuddenlyFound and she will show you how you can have this Kindle case made from a book too.
(3) Book Page Fabric
This book craft is pretty interesting.  Turn book pages into pieces of fabric.  DesignSponge turned book pages into a writing pad, a tiny notebook and a cleanable writing pad for under the computer.  Make sure to check out her site so you can see all the pictures of all she made.
(4) Secret Storage Areas
This craft always reminds me of something from a Spy Movie.  This is so cool…. what child wouldn't love a secret hiding space?  And, what better way to do this than in a book.  Education.com shows you how to do this.
(5) Book Purse
Isn't this book purse an original idea?  It really is.  And, I can totally assume that you would be the only one carrying around a purse like this.  If you are wondering how to make this purse go check out Curbly for all the details.
(6) Book Vase
Check out these beautiful vases made from books.  Aren't they so cool?!  And, they aren't that difficult to make either.  You can find out the step-by-step "how-to" over at CountryLiving.  Just skip over to slide 8 to see this particular craft.
(7) Book Table
Here is a table constructed out of books.  Looking at this I would wonder how stable this desk could possibly be.  But, if you check out the original post over at Instructables they explain how if constructed correctly this table is quite stable.  Check it out for the full how-to.
(8) Book Page Wreath
Here is another Book Wreath that I loved so much I had to include in this post.  This particular book page wreath was done by LivingWithLindsay and she explains beautifully how to make this wreath for yourself.
(9) Book Clock
This clock is absolutely adorable and would work out perfectly in any child's room.  I found this book craft over at DesignDazzle and it's a fun craft.  She has the complete tutorial over there, so make sure to check out her site.
(10) Book Picture Frame
Here is a cool way to present those photographs for all to see.  How about use an old book with an interesting cover and recycle it this way.  WikiHow shows you how to do this beautifully with a step-by-step tutorial.
Technorati Tags: books, recycled books, how to recycle books, book crafts, recycled book crafts, crafts made from recycled books, upcycle, upcycle books, upcycled books