Today I'm going to show you how to transform an ordinary jug into a wonderful Christmas decoration.  You can use a jug that you can pick up at any discount store and change it into a spectacular Christmas decoration or give it out as a Christmas gift this Holiday.  Using this special napkin technique changes an ordinary jug into something so much more.  Plus, the craft itself is so much fun.  So, grab the kids and the materials needed and let's get started.
Check out our other Christmas crafts.
Laura from  Dacian Moon Handmade will show you how to make this.
Materials Needed
– blank jug
– craft glue
– metallic gold paint
– napkin with the motif you want to use
– scissors
– paintbrush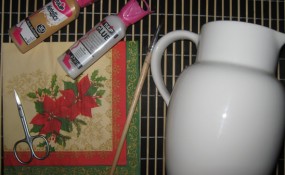 Step 1
Take the napkin…
… and cut out the motif you want to use…
… like this.
Step 2
Remove the white layers. It is easier to start in the middle, where the napkin was folded.
Most napkins are either 2-ply or 3-ply so you must remove all the white layers.
Step 3
Using the paintbrush…
… apply a layer of glue on the item where the motif will be.
Place the napkin as flat as you can, following the contours of the item.
Wet the brush slightly with glue and spread evenly on the surface of the napkin until it is completely covered. Work slowly and be careful not to tear the napkin. Work from the center out towards the edge of the pattern.
Let it dry.
Step 4
To give it shine you can add a thin layer of metallic paint over the motif.
Let it dry well…
… and the jug is ready.
Now place the Christmas decorated Jug somewhere special this Christmas.  It is a perfect decoration for the Holiday that you can use for years to come.
Technorati Tags: Christmas crafts, xmas crafts, Christmas activities, xmas activities, December crafts, Holiday crafts, Holiday activities, Christmas decorations, Christmas decoration crafts, jug crafts, jug Christmas crafts, napkin crafts