Today I'm going to show you how to make a very special greeting card for the Christmas Holiday.  In particular I'm going to show you how to make a Pop-up Christmas card.  Anyone receiving this Christmas card will love it… not only because it came from you, but also because of the 3-D effect of the card.  In this post I will show you how to make a Pop-up Christmas tree that actually sticks out of the card when opened.  Add a special note to your card and it is ready to send out for Christmas to a friend or family member.
Check out our other Christmas crafts.
Laura from  Dacian Moon Handmade will show you how to make this, step by step.
Materials Needed
– cardboard
– green paper
– green pen
– glue
– scissors
– green glitter glue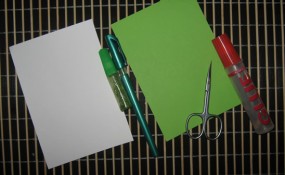 Step 1
Fold the cardboard in half.
Fold the upper corners outward at about 2/3 of their height…
… like this.
Step 2
At 2/3 of height, cut in waves until you reach the crease…
… it will look like this.
Make another 2 – 3 waved cuts…
… like this.
Step 3
Press the lower part (under the first cut) behind…
… like this. It will look like the tree stem.
Step 4
Fold the green paper in half.
Apply a layer of glue on the cardboard until you reach the creases…
… and place it over the green paper, like this.
Do the same on the other part.
Step 5
Take the green pen …
and write "Seasons Greetings" beside the tree.
Add some glitter glue globes on the tree and your greeting card is ready .
And, there you have it.  You just made a beautiful and festive Pop-up Greeting card for Christmas.  The receiver will love it!!
Technorati Tags: Christmas crafts, xmas crafts, Christmas activities, xmas activities, December crafts, Holiday crafts, Holiday activities, Christmas cards, Xmas cards, paper folding, paper folding crafts, greeting cards, how to make Christmas cards