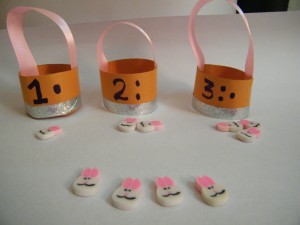 Make Easter Counting Game for Easter or Spring : Preschoolers Craft
Here's a fun game to learn counting this Easter. This craft can also be done as a group activity, every child makes one basket and in the end the kids can play a game of putting the right number of Easter bunnies  in each basket.
Craft materials required:
Thick colored paper
Broad ribbon
Scissors
glue
tape
markers
Ruler
Small bunny shaped erasers or candy
Colored tape
Step 1
Cut out strips of paper about 4 in wide and 9 in long
Step 2:
Roll it around and glue the ends together to form cylinders.
Step 3
Trace the outline of the circle formed on a piece of paper of the same colour.
Step 4
Remove the cylinder and add tabs to the design as shown below.
Step 5
Cut it out and fold the tabs as shown below.
Step 6
Place the cylinder over this piece so that the tabs are on the inside. Tape the tabs to the inside walls of the basket.
Step 7
Take a long piece of tape and stick it along the bottom as shown.
Step 8
Fold the tape over the edge to make the basket strong.
Step 9
Cut a piece of ribbon and tape it to the insides of the basket as shown.
Step 10
Stick some colored tape along the bottom of the basket as shown.
Step 11
Write a number on each basket. The game is to put the right number of objects- Easter bunnies, miniature eggs or candy into the baskets.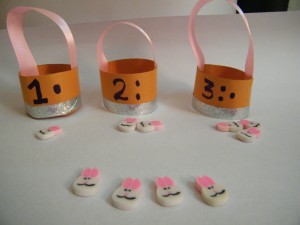 Technorati Tags: easter craft, easter crafts, easter crafts for kids, crafts for easter, crafts for kids, crafts for children, preschool crafts, crafts for preschoolers, easter crafts for preschoolers, bunny crafts, easter games, easter activities