It's the Christmas season and I'm going to get into the Christmas mood by showing you a fun Christmas craft.   Today I'm going to show you how to make a recycled lid Christmas Ornament.  I love this craft because this ornament is made from recycled materials.  Not only will we use a recycled jar lid, but we will also use a recycled greeting card.  Plus, it turns out super cute.  Your kids will really enjoy making these Christmas ornaments.  So, let's get started.
Check out our other Christmas Crafts.
Laura from  Dacian Moon Handmade will show you how to make this recycled lid Christmas ornament.
Materials Needed
– recycled lid
– recycled greeting card
– scissors
– glitter glue (I use gold glitter glue but you can choose another color to match the greeting card you use)
– craft glue
– metallic silver paint
– a small piece of ribbon
– pencil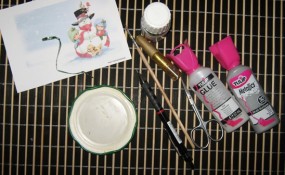 Step 1
Decide what part of the card you want to use and place the lid over it.
Using your pencil trace the contour of the lid…
… then cut out the desired part…
… like this.
Step 2
Apply a layer of glue inside the lid…
… and place the cut card over it.
Step 3
Use glitter glue to make some highlights on the card. I use it on the red parts.
It will look like this.
Step 4
Use metallic silver paint to add some delicate accents on the snow and to make snowflakes. (Instead of the metallic silver paint you can put small amounts of glue and place glitter or cotton wool on it )
The front of our ornament is ready.
Step 5
Turn it over to fix the back.
Draw a circle on the rest of the card and cut it out.
You can use it like this or turn it over with the white part up, as I did.
Take the ribbon and fold it in two…
… apply a small amount of glue on the upper part of the lid, like this…
… and place the folded ribbon over it.
Apply glue on the card circle too…
… and put it on top of them, like this.
Now you can write "Season Greetings" on it and decorate it with glitter glue if you want.
Let it dry well and you have a unique ornament made of recycled materials.
Isn't that an adorable Christmas ornament?  And, it's made from recycled materials…. how cool is that?!
Technorati Tags: Christmas crafts, xmas crafts, Christmas activities, xmas activities, December crafts, Holiday crafts, Holiday activities, ornaments, ornament crafts, Christmas Ornaments crafts, recycled crafts, crafts made from recycled materials, recycled materials crafts, lid crafts, greeting card crafts, recycled greeting card crafts