Because Chinese dragons are magnificent creatures and the Chinese New Year is approaching, let's make a simple bookmark with dragon head. This beautiful bookmark that you will make in this arts and crafts project, will astound your friends and family members. And it is a LOT of fun to make. This crafts ideas was contributed by Laura from
Dacian Moon Handmade
You Might Also Like Our Other Chinese New Year Crafts
How to make a Chinese Fire Dragon Bookmark for The Chinese New Year
CRAFTS MATERIALS NEEDED:
– paper (not too thin) – white and red
– scissors
– design template (uncolored dragon head)
– craft glue
– ribbon (about 25 cm)
– paints
– paintbrush
– yarn
Step 1
Print the head of the dragon (you get the file by clicking on the bolded word). Paint it in any way you want your dragon to be. Or Visit Our Chinese Dragon Head Drawing Tutorial if you want to draw it freehand.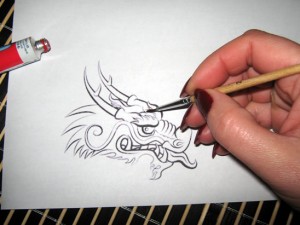 I want this to be a dragon who will guard the fire so I use red, yellow, orange and green for it's eye. Let the paint dry.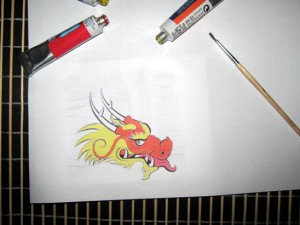 Step 2
With the scissor, cut out the dragon head.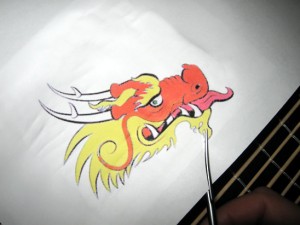 Step 3
Apply a layer of glue on the unpainted face …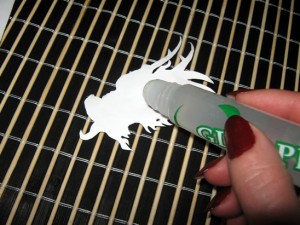 … and then place it on one end of the ribbon. Let the glue dry.
Step 4
Use the scissor to cut 10 pieces of yarn of about 10 cm each.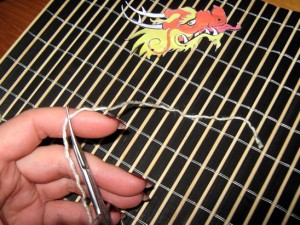 Apply a layer of glue on the empty end of the ribbon…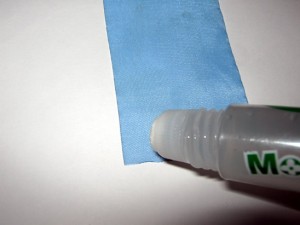 … and place over it the threads, folded in two.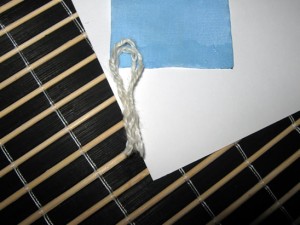 When you'll finish, it will look like that. Let it dry.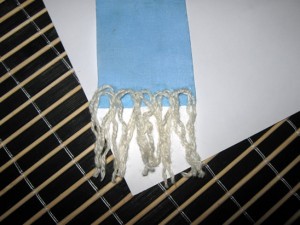 Step 5
Cut a piece of the red paper, just big enough to cover the threads on the ribbon.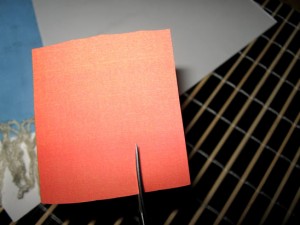 … and place it over the threads, on the ribbon's end. Let it dry well.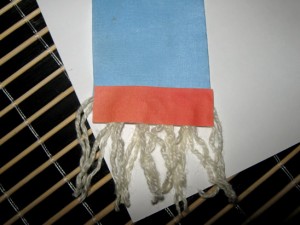 Now, our bookmark is finished and ready to make itself useful 🙂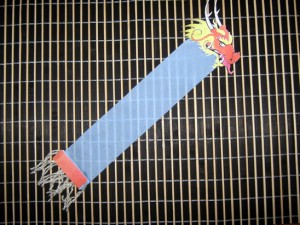 Technorati Tags: chinese new year, chinese new year crafts, chinese new years crafts, bookmark crafts, making bookmarks, dragon crafts, making dragons, dragons, asian crafts, chinese crafts