Today I'm going to show you how to make New Years Resolution Reminders.  A New Years Resolution is something you want to change or do better in the new year.  Such as conserve more water or save electricity, for example.  You probably have different ones.  Well, with today's craft you will have an easier time remembering your New Years Resolutions throughout the new year, so you can keep working on your New Years Resolutions.  Do you know what your New Years Resolutions will be?  Come up with a few and then let's get started on the craft.
Check out our other New Years Crafts.
Laura from Dacian Moon Handmade  will show you how to make these resolution reminders, step by step.
MATERIALS NEEDED:
– two pieces of cloth of different colors (I chose blue and white)
– black and white textile paint
– needle and thread
– scissors
– cotton pads
– 6 beads (4 white and 2 blue)
– 9 paper clips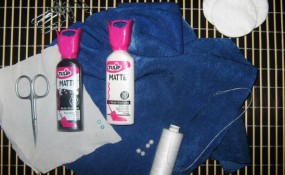 Step 1
Cut one rectangle from the blue cloth ( ~12 cm x 5 cm)
Fold it in half, like this…
… and start sewing the fold.
Near the edge, place a paper clip over the cloth…
… and sew it in place.
Continue to sew the lower part and add the second paper clip near the other edge.
Sew the sides too.
When you finish it will look like this.
Step 2
Take one cotton pad …
… and part it in small pieces.
Put all those pieces inside the blue cloth…
… and sew the upper part too. We made a pillow.
Step 3
On the right upper part, sew 2 white beads…
… like this. Those will be the eyes.
On the middle sew a paper clip – this will be needed to hang the reminders somewhere.
Now we have a blank reminder.
Step 4
Using white paint, write the first resolution. My example, "keep my room clean".
With black paint, complete the eyes.
Like this.
Step 5
Take a piece of white cloth and follow all the steps above…
… to make a white cute pillow with blue eyes and a new message, "study harder". Take care that you must have two paper clips on the upper part, to link to the first reminder, and two paper clips on the lower part to link to the next.
Step 6
Make the third cute pillow, blue. You can add as many reminders as you like. Just take care that the last of them should have paper clips only on the upper part.
Link them together and place it somewhere you will easily see. It will help you remember your New Years Resolutions.
And, there you have it…. you just finished your New Years Resolution Reminders.  Isn't it cute?  What were your New Years Resolutions?  Let me know in the comments below.  Also, take a picture of your craft and share it with your comments…. we'd love to see it.
Technorati Tags: new years crafts, new years day crafts, new years eve crafts, kids crafts, kids new year crafts, kids new years crafts, January crafts, New Years resolutions, New Years resolution crafts, resolution crafts