If you love making jewelry I have a fun craft for you today.  I'm going to show you how to make a Paper Bead Bracelet.  That's right…. it's a bracelet made out of paper.  With paper you actually make the beads that make up this bracelet.  Surprisingly enough….. by simply rolling paper and adding glue it creates a very strong and durable bead.  Choose your favorite color paper to make the beads and the result is a beautiful bracelet you will be proud to wear with your favorite outfit.  So, let's get started.
Check out our other Jewelry Crafts.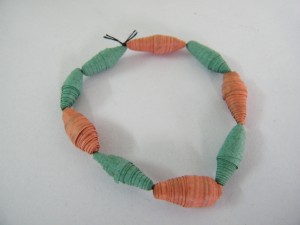 Materials Needed
Colored paper
Scissors
Glue
Ruler
Pencil
Needle
Thread
Step 1
Using a ruler, on one edge of a rectangular piece of paper, mark points that are 1.5 inches apart… starting from the edge.
Step 2
On the other end of the paper, mark a point 0.8 inch away from the edge of the paper. Draw a second point 1.5 inches from this point. Mark a few more points, each 1.5 inch away from the last point. After you are done, draw lines joining the points on both ends as shown below.
Step 3
Cut along the lines to get long triangles as shown below.
Step 4
Fold the edge near the wide end of the triangle and start rolling it as tight as possible.
Step 5
Apply some glue to the end of the triangle and roll to form a bead as shown below.
Step 6
Make many beads as shown below and thread them together into a bracelet using a needle and thread.
Step 7
Wear the pretty bracelet around your wrist and show it off to all your friends.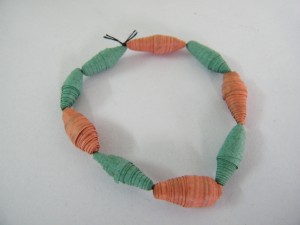 Isn't it unbelievable that you can make such an awesome bracelet simply out of paper and glue?  How did your Paper Bead Bracelet turn out?  Let me know in the comments below.  Take a picture of your bracelet and share it in the comment as well…. I'd love to see it.
Technorati Tags: jewelry crafts, paper crafts, paper bracelet crafts, paper bracelet, bracelet crafts, paper jewelry crafts, paper jewelry, friendship bracelet crafts, jewelry crafts for kids, girl crafts