Here on this page you will find instructions for a beautiful eye glasses case to make. This is a leather craft, so you will need leather crafting tools. Also, if you are new to working with leather, you will want to
refer to our article about Working with Leather!
  This craft instructional will also guide you through etching a design into the cover of the case. When this craft is complete, it would make a great gift for mom, dad, or someone else that you love. 
This craft requires adult supervision and assistance! 
How to Make Leather Eye Glasses Cases with Etched Design
Crafts Materials Needed
2 Pieces of tooling leather 3″ x 61/2″
4 yards lacing
Steel angle and board
Spacing wheel
#0 punch
Water and sponge
Tracing paper
Pencil
Modeling tool
How to Make This Etched Leather Eye Glass Case Craft
Step 1
Round off corners of both pieces of leather, as shown by broken line in Figure 1.
Step 2
On strong tracing paper, draw pattern to fit eye glass ease, allowing 1″ all around for lacing. Draw design within pattern. Put a dab of rubber cement to hold design in place on leather, and transfer design to right side of leather with tracer, as in Figure 2.
HOW TO TOOL LEATHER (Etch Design into Leather)
Step 3
Moisten leather on both sides with a sponge and water, until leather becomes dark. Place leather, face up, on work board. Deepen the outline of the design with the tracer, using a ruler for straight lines (as in Figure 3 above) If leather puckers while in work, dampen all over again, and deepen outline again with tracer. Holding spoon end of modeling tool sideways, follow outline of design. The edge of the tool should rest in the dent. Press down and away from outline towards the center of the background. Go around the entire design this way to throw design in sharp relief. To stipple background of design, use tracer end of modeler.
Step 4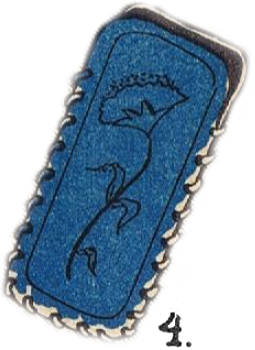 Trim edges. Run spacing wheel on three sides of case. Skive leather where it is to be joined. Cement skived areas and make holes for lacing. Lace pieces together with whip stitch, as in Figure 4.
You Might Enjoy Our Leather Crafts
Technorati Tags: eyeglasses case, eye glasses case, leather crafts, leather, leather cases, leather crafts for kids