What item in your kitchen is seen most often by family members and company?  Your refrigerator, of course.  So, why not decorate your refrigerator too for Halloween.  Today I'm going to show you how to make a Spider Web magnet perfect for the Halloween season.
Check out our other Halloween Crafts.
Laura from Dacian Moon Handmade will show you how to make a funny Halloween magnet, step-by-step.
CRAFT MATERIALS NEEDED:
– cardboard
– pen
– magnet
– glass
– black soft wire (0.5 thickness)
– one red crystal and one black crystal (a little bigger)
– black thread
– craft glue
– round nose pliers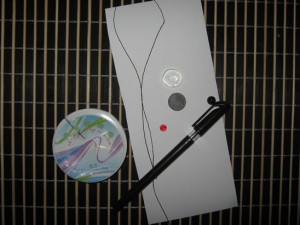 Step 1 – The Web
Place the magnet on the cardboard …
… and draw its contour.
Inside this contour start drawing the web. The drawing should be waterproof.
Fix a center of the web,…
… draw lines from it to the edge. The lines shouldn't be perfect.
Then link the lines using horizontal ones. Like this.
Cut out the disc with the web.
Like this.
Step 2. Assembling the magnet
Apply a generous layer of glue on one side of the magnet…
… like this.
Then place the web disc on it (with the drawing up)
Apply a layer of glue on the glass too…
… like this…
… and place it over the web.
Take a piece of thread and roll it around the magnet, just under the glass. Don't pull hard. It just need to be on the glue.
Let it dry well.
Step 3. The Spider
Cut a piece of black wire – about 4 cm.
Make a loop on one end.
Add the crystals – first the red one…
…  then the black one.
Make a closed spiral at the other end, letting 0.5 cm of wire to the crystals.
Place the crystals at the ends of this wire. This is the spider body.
Now we'll make the legs of the spider.
Cut three pieces of wire about 4 cm each.
Take one piece and start turning it around the spider body, between the crystals. Turn it around for 3-4 times.
Take care that the remaining wire is equal on both sides.
Add the second piece of wire the same way.
Then the third.
Is time to bend its legs. At about 0.5 cm of the body, bend the wire like in the picture.
Do the same for all the legs.
To prevent scratches, make a little loop on the end of every leg.
Step 4 – Adding the spider
Put the black thread through the loop near the red crystal…
… and make a knot. Like this.
Now the magnet is ready to decorate any metallic surface 😉
Isn't this Spider Web magnet adorable?  I'm not sure a spider and its web is adorable, but if any should be…. this should be the one.  I love how the spider dangles from the web.  It's perfect as a magnet this Halloween…. or anytime of the year.
Technorati Tags: spider, magnets, decorations, Halloween, Halloween Decorations, Halloween crafts, Halloween craft decorations, spider crafts, spider decorations