Here is a Back to School craft that you can work on in the next few weeks. Learn how to take a normal USB memory stick and decorate it with paint and random objects…turn it into a Steampunk masterpiece.You can then wear it around your neck as a special pendant necklace. Laura from
Dacian Moon Handmade
  will show you today how to make this cool and useful pendant.
CRAFTS MATERIALS NEEDED:
– USB memory stick
– black paint
– silver metallic paint
– bronze powder
– instant glue
– a piece of thin fabric for texture (I use tulle)
– a little wheel
– bronze bead – I use a little stylized flower
– scissors
– paintbrush
– toothpick (useful to put little pieces in place)
Step 1.
First of all, remember that you don't have to do everything we do…just use our tutorial as a guide. You won't have the same exact materials as us…but just be creative.
Paint the stick in black.
Like this. Let it dry.
Step 2.
Cut a piece of fabric…
… and wrap it around the stick so as to form creases.
Apply some glue to fix it in place.
Like this.
Add the decorations among the creases. Glue them in place.
Add glue on every edge to fix the fabric.
Let it dry.
Do the same for the cover. It will look like this.
Step 3.
Use your paintbrush to paint the fabric in black. Also paint where the glue reached and bleached the paint.
Like this.
Prior it dry out, add a little bronze powder …
… with your paintbrush.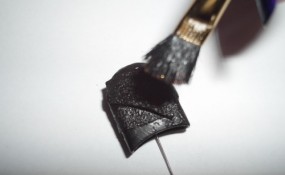 Like this.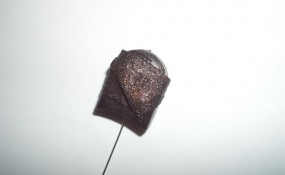 Let it dry well.
Step 4.
Use the silver paint to add a metallic patina on some elements, especially the wheel.
Like this.
Also, add a bit of bronze powder on it, to keep the atmosphere.
Let it dry completely.
Step 5.
Put the cord through the hole on upper part of the stick…
And make a knot. Now you can wear it as a pendant or key chain accessory.