This is a cool and fun project for summer. What can be more pleasant than playing with water on a hot Summer day? How about painting with colorful bubbles, just the way a fairy would. Laura from  
Dacian Moon Handmade
will show you, step by step, how to make this.
How to Make Fairy Lights by Blowing Bubbles
CRAFTS MATERIALS NEEDED:
– plastic bottle
– 1 sock
– paints
– tape
– scissors
– liquid soap / shower gel… mixed with water
Step 1.
Cut off the lower part of the bottle.
Like this.
Step 2.
Put the sock on the cut.
Like this. You can use tape to fix it in place.
Step 3.
Add some paint on the sock.
Dip the sock in the soap / water mixture …
Then gently blow through the mouth of the bottle. Take care not to suck in air through the bottle, because of the soap and paint.
It is a fun project and you can make very beautiful fairy lights 😉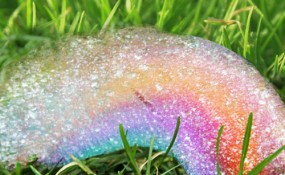 Technorati Tags: bubbles, liquid soap, paint bubbles, colorful bubbles, painting with bubbles, bubble crafts, soap crafts, fairies, fairy crafts, fairy crafts for kids, preschool crafts, toddler crafts, kindergarten crafts, painting crafts