Today I'm going to show you how to make a Valentines Gift for Her.  It is a lace choker and the end result is just simply beautiful.  Any female would love to receive this as a gift.  It is a perfect gift for your Mom, Aunt or even your someone special.  We will even make a cardboard heart that the choker is placed on to make presenting this gift even more lovely.  So, grab the materials needed and let's get started.
Check out our other Valentines Day Crafts.
Laura from Dacian Moon Handmade will show you how to make this lovely gift.
Materials Needed
– patterned cardboard
– organza (a rectangle of about 10 cm x 10 cm)
– lace (it will be a choker so you can measure to fit your neck )
– satin ribbon
– scissors
– needle and thread
– pencil
– card punch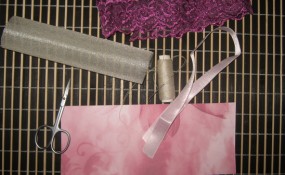 Step 1
Cut the organza piece in half.
Take one half and fold it in two.
Now, sew the two parts (of the folded half) around the corners…
… like this.
Pull thread to form the petals.
Make a knot to keep it in place.
It will look like this.
Step 2
Repeat the first step to make anther one.
Step 3
Take about 12 cm of the satin ribbon…
And wrap it around your finger…
… like this.
When you reach the end, sew it to keep it in place.
Step 4
Put the satin part through the middle of one piece with petals and sew it there.
Like this.
Add the second part with petals…
And sew it.
Now the flower is ready.
Step 5
Take the lace…
… and find its middle.
Sew the flower there …
… like this.
Step 6
Cut the remaining satin ribbon in two…
… and sew them at lace ends.
The necklace is now ready.
Step 7
Take the cardboard…
… and draw a heart on it (about 12 cm x 12 cm)
Cut it out.
Make a hole in the upper right part…
… like this.
Fold the necklace like this…
… and place it on top of the heart, under the hole.
Mark a point under the folded necklace…
… and make another hole there.
We will put a small ribbon through these holes to keep the necklace on the base.
It is looking like this on the backside.
You can tie the two parts of ribbon or you can use a double adhesive band to keep them in place.
So, this is the gift…
… and this is the necklace.
Doesn't this Choker Valentines Gift for Her turn out lovely?  Any girl would love receiving this as a gift.  How did your Choker turn out?  Let me know in the comments below.  And, don't forget to add a picture…. I'd love to see it.
Technorati Tags: valentines crafts, crafts for valentines, valentines day crafts, crafts for valentines day, valentines day gift crafts, gift crafts, crafts for girls, necklace crafts, choker crafts, lace crafts, crafts for kids