I have a wonderful Christmas craft for you today.  I'm going to show you how to make a lace Christmas Ornament for your Christmas tree.  This Lace Christmas ornament is a wonderfully delicate ornament and the crystals will look just absolutely breathtaking against the Christmas lights on the tree.  Let the kids join in on this craft…. after all it is a super fun craft for the whole family.  Plus, imagine how good the kids will feel when they see their handcrafted ornament on the tree.  So, let's get started.
Check out our other Christmas Crafts.
This delicate ornament will add a note of elegance to your Xmas tree.
Materials Needed
– lace (for best results use one with flowers or some pattern border, like mine)
– needle and thread
– a piece of thick thread
– crystals (I use bicones and one drop)
– scissors
– 1 small bead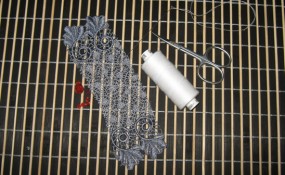 Step 1
Look carefully at the lace and choose the best part to use, then cut it out.
I choose a spiral with a tail so I will add the crystals to the tail. You will add them on the lower part of your piece, to dangle.
Step 2
Sew the crystals  to look good…
… I put each one on a part of the tail, letting the middle one free.
In the middle we will sew the drop.
Step 3
Place the drop on the needle, starting with the narrow end.
Then add the bead…
… and pass the needle back through the drop, like in the picture.
It will look like this. Sew it to the lace and make a small knot.
The ornament is almost ready.
The only thing that must be done is to add the thick thread on the upper part, like this.
Now you have an elegant ornament for your Christmas tree.
Isn't this a beautiful Christmas ornament?  It's just so delicate…. I love it.  The dangling beads will look so beautiful against your Christmas lights.
Technorati Tags: Christmas crafts, xmas crafts, Christmas activities, xmas activities, December crafts, Holiday crafts, Holiday activities, ornaments, ornament crafts, Christmas Ornaments crafts, Christmas tree ornaments, lace crafts, lace Christmas crafts