Purim is coming up quickly….. it will be here this year on the evening of March 7th.  So, since Purim is all about hiding ones identity I thought we should make a mask perfect for celebrating Purim.  So, today I will be showing you how to make an Elegant Mask for Purim.  Made from paper and whatever you would like to use to decorate the mask…. the outcome is a Mask that you would be proud to wear.  So, grab the materials you will need and let's get started.
Check out our other Dressing Up Crafts.
Step by step tutorial offered by Laura from Dacian Moon Handmade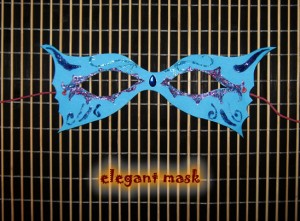 Materials Needed
– colored paper
– leather cord (or any other cord)
– glitter glue (or paint markers / colored pens)
– scissors
– pencil
– synthetic self adhesive crystal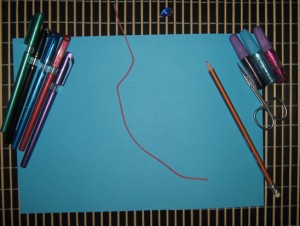 Step 1
Use the cord to measure how big should be the mask…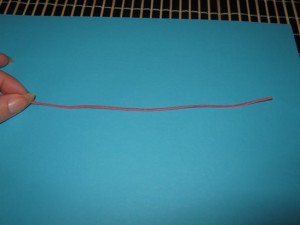 … and make the markings on the paper, according to your measurements.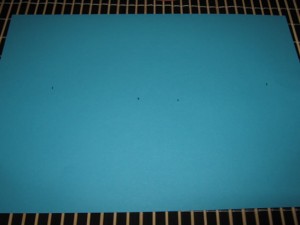 Step 2
Draw the lower part of the mask.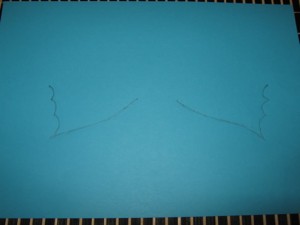 Step 3
Make an arch in the middle, where the nose will be.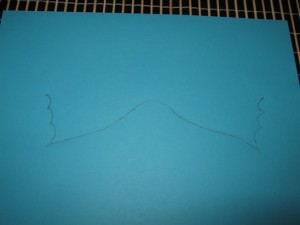 Step 4
Continue with the upper part of the mask – you can make any shape you like. I made it in the shape of spread wings.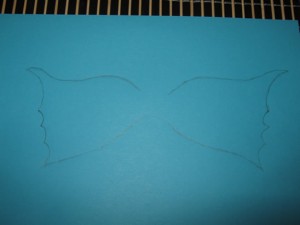 Step 5
Make an inverted arch on the middle.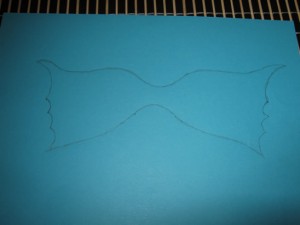 Step 6
Step 7
Measure again and make the markings for the eyes.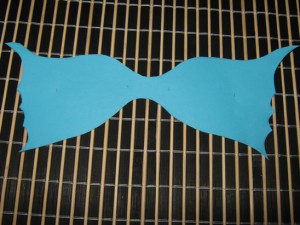 Step 8
Step 9
Use the pencil and decorate the mask. I like curved lines and swirls so I used them. I marked the paper near the eyes holes and the corners.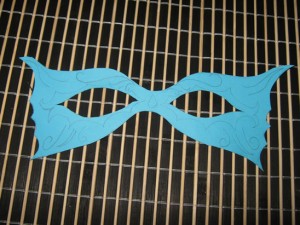 In the middle make space for the crystal.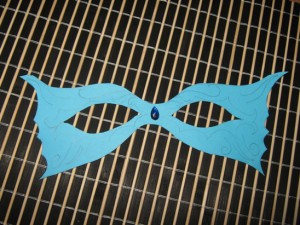 Step 10
Using glitter glue (or paint markers / colored pens) highlight the decorations. Because my paper is light blue, I use blue glitter glue on the upper part…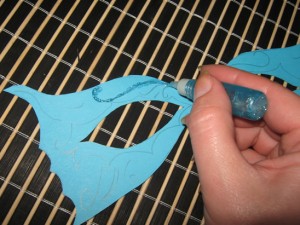 Step 11
With the scissor make two little holes on the outer edge of the eye holes, like this: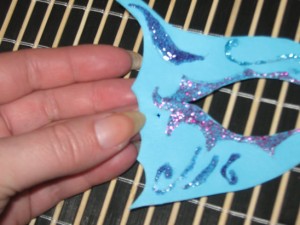 Make a knot on one side of every half…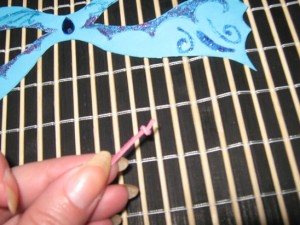 … place it through the little holes…
… and the mask is ready to be worn.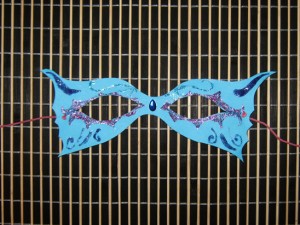 Isn't this mask just simply gorgeous?  Anyone would be proud to wear this elegant mask for Purim.  Did you use your creativity to make your mask differently from mine?  Let me know in the comments below.  And, take a picture of your mask and add that too to the comments…. I'd love to see it.
Technorati Tags: Purim, Purim crafts, Purim activities, Purim Masks, Purim Mask Crafts, Purim Masks for Kids, kids crafts, Kids Purim crafts, Purim crafts for kids, mask crafts, dress-up crafts