Home > Arts and Crafts Projects for Kids > Fabric Arts & Crafts for Kids
FABRIC CRAFTS FOR KIDS : Ideas for Arts & Crafts Projects & Activities with scraps of fabric, cloth,velvet, felt, etc for children, teens, and preschoolers
Fabric is such a versatile material to use in crafts. You don't necessarily have to sew to work with cloth & fabric. You can make dolls, stuffed animals, puppets, musical instruments, and many other things without any sewing involved. Sometimes glue, string, or rubber bands can be used to secure cloth to the craft materials you are using. There are some crafty ideas below...I hope you enjoy your crafts project.
Fabric Crafts Categories or Find Fabric / Cloth Crafts Below These Categories
Make Stuff Out of Bed Sheets & Linens
Make Stuff Out of Denim Blue Jeans
Make Stuff Out of Mittens / Gloves
Make Crafts Out of Pillowcases
Plastic Canvas Crafts (Easy Sewing Crafts)
Make Crafts with Thread Spools
Make Crafts with Stockings / Pantyhose
Masks and Costumes Making Crafts
Sew a 5 Point Scarf from Square Piece of Fabric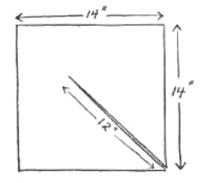 This is easy to make and a dainty scarf to wear. Any little girl will love it. She can make it from a pretty printed cotton, rayon, or silk, or even in a solid color. She'll need a 14-inch square of fabric. Cut a 12-inch diagonal slash, as shown above. Narrowly hem all six edges—and that's all there is to it. The bias points forms the tie, and your little girl will find that it fits nicely around her neck. There are a number of ways of wearing it—tie it center front, center back, or on either shoulder. If your child wishes to make a reversible scarf of two contrasting colors, cut a 14-inch square of each color. Place right sides together and seam on all four sides. This can be done on the sewing machine or by hand with a simple running stitch. Press seams open, snip each corner off close to the stitching, and clip seams every few inches. Cut a 12-inch diagonal slash. Turn the scarf right side out. Press all the edges. Turn the four bias edges in 3/8 inch, press, then slip- stitch the edges together on each side. The size of scarf described here is for a young girl. If it is wanted as a gift for an adult, make it larger. Make the square 20 inches in size and cut the diagonal slash 18 inches.
Making Semaphore Flags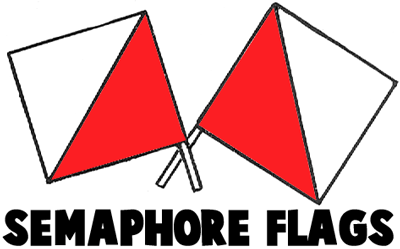 Materials need for this craft are the following ... Two 12" squares of muslin or sheeting or other fabric, 1 red wax crayon, 2 dowel sticks 16" long, thumbtacks, white thread, needle, pencil, scissors, newspaper, and hot iron. Sew a 1/4" hem on all sides of cloth. Draw a diagonal line between. two corners on each flag and color one-half of it with red wax crayola. Ask an adult to place colored side down on newspaper and set color with a hot iron. Tack to dowel stick. Here is a link to read more about how to use semaphore flags.
Make a Fabric / Cloth Design to Decorate Scrapbooks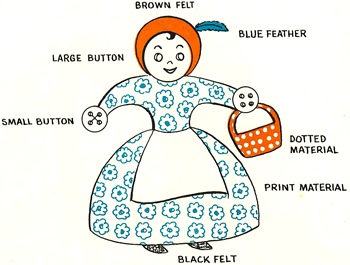 Pictures made from cloth can be used to decorate gift boxes, luncheon sets, book covers, knitting boxes, and sewing bags. The design shown here was used to decorate a covering for a sewing scrapbook. Try making one. It's fun. It is great fun, too, to create cloth pictures using bits of lace and ribbon. You can use your creativity to make anything out of cloth. You don't even have to sew, yoou can just use sewing glue. It is a lot of fun, especially since ribbons and fabrics come in such beautiful patterns.
Sew a Protective Oven Mitt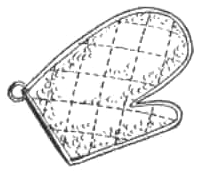 Make a protective mitt for handling hot dishes from a worn, thick towel. First, cut a pattern on newspaper or large paper as shown in the picture above (notice that it is a number '3' shape that is closed with a line.) Using the best part of the towel, cut four thicknesses so it will be double front and back. Quilt two thicknesses together—that will make a more attractive mitt and will make it more durable. Draw light pencil lines where you want the quilting, and sew along these lines with a plain running stitch. Join front and back with a running stitch about 1/4 inch from the edge. Finish the edges with close overcasting stitches in red yarn or bind with contrasting bias tape.


Use an Old Shirt for a Painter's Smock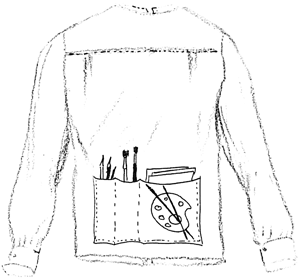 Ask your Dad for one of his old work shirts that he doesn't wear anymore. Cut off his collar. Now turn the shirt from front to back...the way that you will wear your smock. Now take either fabric or strong, clear plastic (from a bag that bedding or a comforter comes in)...this will be what you make the front pockets out of. Now just cut out a big rectangle and cut the 3 sides, leaving a hole at the top. For multiple pockets...fold down the center 2 or 3 times. This makes a perfect smock...you can put brushes, rags, paints, pencils or whatever in our pockets and get it as messy as you want to.
OTHER FABRIC CLOTH CRAFTS BELOW

How to Make No-Sew Tote Bag Craft from Recycled Old T-Shirts - These no-sew t-shirt tote bags are so easy to make that you can make tons of them to take with you to the grocery store to use instead of plastic or paper grocery bags. Follow the easy-to-follow, step by step instructions below.

How to Make Easy No-Sew Sock Dolls Crafts Idea for Kids - This craft will probably take less than 10 minutes for you…it is that easy. These are no-sew dolls…that is right…no sewing necessary at all. If you like sock monkeys, but you were too lazy to make them, then this arts and crafts project is for you. Have fun.

The Handbag Addiction Starts Early With a Felt Purse - If your little girl wants to be just like Mommy and the big girls with her own purse, this is a creative way to give in without actually spending money on expensive accessories for a pint-sized clothes horse. It could easily be made as a pouch or satchel for a boy as well.

Make Cosmetics Case for Girls or as a Gift for Mom on Mother's Day - This is an easy sewing project with easy illustrated instructions to make a make-up / cosmetics case. Girls and Teens will love making this cosmetics bag / case / wallet – whatever you want to call it. It is also a great project to make for Mom or Grandma on Mother's Day…and it would also be a great group project for Summer Camp or Girl Scouts.

Make Hand Puppets with Stuffed Animals - Make these adorable hand puppets with an old stuffed animal toy and an old glove. All you do is sew the glove inside of the stuffed animal. Find out with the following illustrated tutorial.

Shark Pencil Pouches - Find out how to make these shark pencil holders out of denim and vinyl ... however you can use other fabrics if you want to (this is a sewing craft).


Handkerchief Cup Bunny Place Setting - All you need are a handkerchief and a cup...and optionally a bow for around his neck. Then for an Easter Party put a bunny at everyone's place setting.

Easy to Make Sock Baby Dolls - This is a great first-time-sewing baby doll project. You will of course need a sock, stuffing, needle & thread, scissors, and a black marker.

No-Sew Hopa Mitica Doll - Push it Down it Pops Back Up - Learn how to make a Romanian Doll, called a Hopa Mitica Doll. No Sewing Involved.

Make Stuffed Owls - Here is a step by step instructional lesson to guide you to sewing your very own stuffed owl.

Thumb Wrestling Puppets - Make fabric thumb wrestling puppets to play with your dad on Father's Day. He will love these.

How to Make a St. Patrick's Day Kitty Cat - Learn how to sew this fabric stuffed animal cat with shamrocks all over it.

How to Make a Roll-up Bag for Pencils or Tools : Crafts Idea for Older Kids - This is a tutorial well suited for older children. It is not a hard one and is very useful. I always needed a bag like this (for pencils or different tools) and never could find one so, I decided to make one. Today I will share it with you.

Make a Fabric Tapestry with Crayons - What?! You heard me right. Make a Fabric Tapestry with fabric, an idea for a nice design, crayons, and creativity. Have your Mom or Dad heat up the iron and set it on the fabric. You can then hang it up and stare at its utter beauty!!

Pumpkin Girl with Clay and Fabric - This is the cutest pumpkin I ever did see...learn how to make this amazing craft with the following step by step crafts instructions.

Make Bookworm Hand Puppets with Hand Towels - Learn how to make hand towel terry cloth puppets.

Sewing Fabric Pouches - Learn how to make a pull string pouch..a great beginners sewing project for kids.

Use Old Linen Rags to Make Homemade Paper - Learn how to make homemade paper with old rags with the following illustrated, step by step instructions.

Plastic Bottle Organizers - Learn how to make these plastic bottle organizers with fabric, ribbon, and recycled plastic bottles.


Fabric Purse Organizers - Here is a quick craft...learn how to sew this personal purse organizer...great for school or just to get everything in one place.

Fabric Strip Jump Ropes - This turns out amazingly, and they are so strong and beautiful to look out. These make great jump ropes.

How to Make Jesus in a Manger for Nativity Scene with TP Roll & Fabric- Christmas is coming up soon and this is the day that baby Jesus was born. How about making a tiny manger for the baby of Christmas, Jesus and a part of your Nativity Scene with a toilet paper roll. The step by step instructions are given on the following page

Fabric or Felt Easy Sewn Stuffed Owls - Make these adorable stuffed owls with the following easy to follow sewing instructions.

Making Sock Snowman - Learn how to make this adorable Winter Snowman stuff animal with a sock.

How to Make a Ghost Halloween Party Greeting Card with Fabric - This friendly ghost will say "Boo" to scare your friends this Halloween. This unique Halloween Party Invitation or Happy Halloween card is easy to make and your friends and family will remember it for a long time.

Make Mom Jewelry Gift : Necklaces and Bracelets by Making Fabric Beads - Did you know that you can make beads out of paper and / or fabric material? Well, you can.

Make Pot Holders Gift for Mom on Mother's Day - This is a great craft for older children, girls, and teens. This is a more complicated arts and crafts project than many of our other crafts ideas, so read over the following craft before deciding to do it. This pot holder craft would make a great gift for Mom or Grandma on Mother's Day.

How to Make a Felt Christmas Angel Ornament - Use a bead for the head and felt for the body of the Christmas Angel Ornament. Use this tutorial to learn how to make this for your Christmas tree.

Oatmeal Container Sewing Bag & Pin Cushion - Make this sewing box / bag and pin cushion for mom or grandma.

Neck Tie Pencil Holders - Learn how to make these cute pencil holders with a neck tie.

New Years Resolution Reminders - Learn how to make the following New Years Resolution Reminder with cloth, textile paint, needle and thread, scissors, cotton pads, beads, and 9 paper clips.

Bobby Pin Holders - Decorate the outside of corrugated cardboard with a nice piece of cloth, and then roll it up with some pretty ribbon. You now have a bobby pin holder.

Sewing on Ordinary Window Screens - This is a really cool project...sew on an old window screen...turn it into a beautiful work of art.

Make a Bandana Apron - A great first sewing project for kids to make as a gift or for themselves.

Make Your Own Wooden Upholstered Dollhouse Furniture - Make your dollhouse furniture with wooden blocks, cotton balls, and fabric or felt.

Fabric Box Headed Puppets - For older children and teens who are good at sewing...this is a great puppet craft activity.

Bible Story Thumb Puppets - Find out how to make robed thumb puppets to represent bible story characters with the following simple steps craft.

Paper Bag Hand Puppets - These paper bags are dressed up real nice to look just like a princess....how will you decorate your paper bag...will it be a cowboy or a bear....make anything that you want to.

Make Glove Octopus Puppets - Transform a pair of gloves and a styrofoam ball into a fun octopus puppet.

Tom Tom Drums & Drumsticks- Learn how to make these tom tom drums & matching drumsticks. The drumsticks are made with velvet or fabric tops tied shut with ribbon.

How to Make a Fabric Apron - Here is a sewing project that would make a great gift. Make Mom or Grandma an Apron.

Make Doll Pencil Toppers - These are adorable...find out how to make them for your pencils too. The dress on this doll is made from a piece of cloth.

Oatmeal Box Fabric Bags - Use fabric, oatmeal containers, and some cardboard.