How to Make Spooky Halloween Eyeballs – I've Got My Eye On You!
Cobwebs and spiders are okay, but if you're looking for really scary Halloween decorations, try leaving some of these eyeballs around the place! Today we will be making these creepy eyeballs that will gross all of your friends out. The easy arts and crafts instructions for making these gross eyeballs can be found below. Have fun!
Crafts Materials Needed:
Ping pong balls
Balloons in red, purple and dark blue
Permanent markers
Glue
Scissors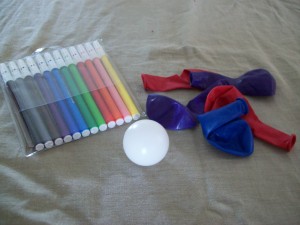 1.) Draw a large circle on your ping pong ball (you may find it easier to use a circular template about one inch in diameter.)  In the middle of this circle, make a large black dot.  This will mark the eye and pupil.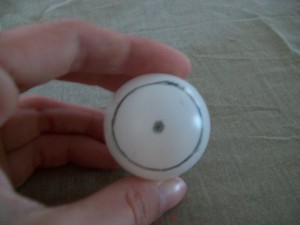 2.) Color in your eye. Encourage children to use their imagination! The best thing about this craft is that it's quick and simple, so they can make several different colored eyes.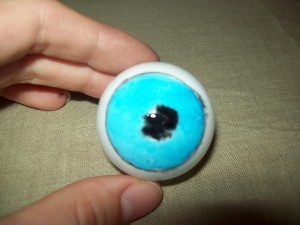 3.) Cut your balloon horizontally to make two pieces. Trim the ends.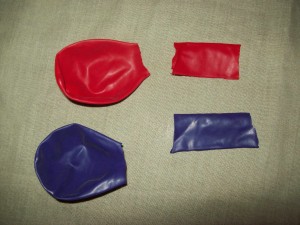 4.) Next, cut those pieces into short, thin strips. Don't worry about neatness or uniformity – the rougher they are, the more realistic the final product will look!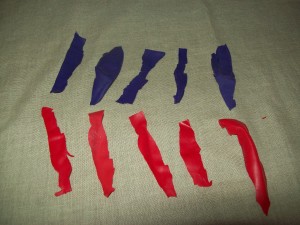 5.) Attach the balloon strips randomly to the back of your eyeball.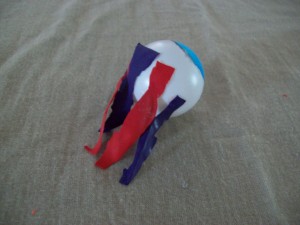 6.) Finally, using a red marker, draw squiggly lines leading from the iris to the 'veins' at the back to make your eyeball look bloodshot.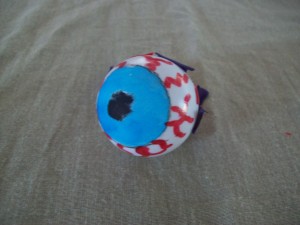 Here's one I prepared earlier: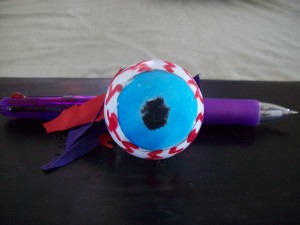 Try leaving these creepy eyeballs around your house at Halloween to really freak out your guests!
More Spooky Halloween Crafts Projects for Kids
Use our Main Halloween Crafts for Kids Page to find some great spooky arts and crafts project ideas for kids to celebrate Halloween such as and some of our sub-pages:
Technorati Tags: halloween crafts, halloween crafts for kids, halloween crafts ideas, trick-or-treat crafts,   crafts for kids, spooky crafts, creepy crafts, eye crafts, eyeball crafts, creepy eyeballs, spooky eyeballs, crafts, arts and crafts, arts & crafts, arts and crafts for kids, make bags