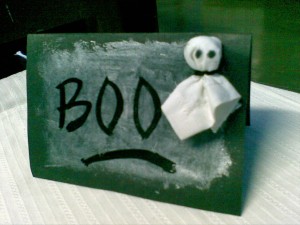 How to Make a Ghost Halloween Party Invitation or Greeting Card : Craft for Kids
This friendly ghost will say "Boo" to scare your friends this Halloween. This unique Halloween Party Invitation or Happy Halloween card is easy to make and your friends and family will remember it for a long time.  The easy arts and crafts instructions for making this Scary Ghost Halloween Party Invitation or Greeting Card can be found below.
Crafts Materials Needed:
Black Card paper
Acrylic paint- silver, black
Small piece of white cloth
Tissue/ toilet paper
Black thread
Scizzors
Paint brushes
Permanent marker
Craft Glue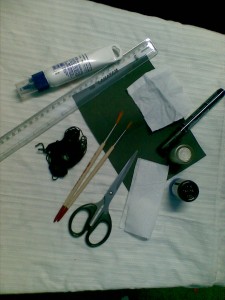 (1) Cut a piece of card the size you like and fold it into half. Take some silver Acrylic paint on a brush and spread it thinly on the front of the card. Leave half an inch of black on the sides as shown. The painting does not need to be neat or even, the roughness is part of the final effect.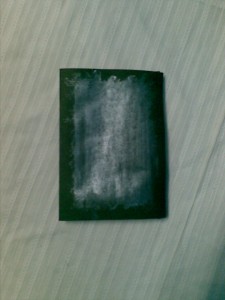 (2) Take some black acrylic paint on a brush and write the words BOO.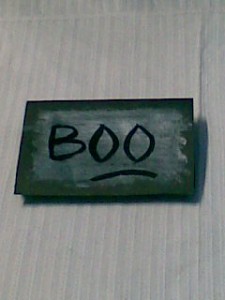 (3) To make a ghost, Cut out a square piece of white cloth about 3 in x 3 in. Crunch a square of toilet paper into a ball and place it in the center of the cloth as shown.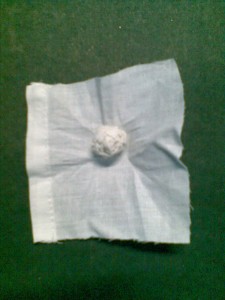 (4) Fold the cloth around the ball and tie a black thread around it to hold it in place. It should look like this. Add eyes with a permanent marker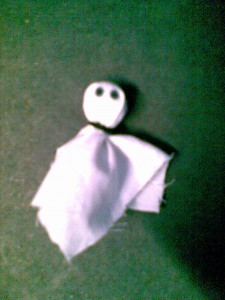 (5) Use Craft glue to fix the ghost to one corner of your card. Add a special message inside and give it to a friend!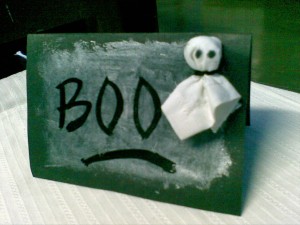 More Spooky Halloween Crafts Projects for Kids
Use our Main Halloween Crafts for Kids Page to find some great spooky arts and crafts project ideas for kids to celebrate Halloween such as and some of our sub-pages:
Halloween Costume Crafts Home Page
How to Make Indian Costumes (Native Americans)
How to Make Joker Costumes (Batman The Dark Knight)
How to Make Mouse / Mice Costumes
How to Make Superhero Costumes
How to Make Transformers Costumes
Technorati Tags: halloween card crafts, halloween invitation crafts, ghost crafts, scary crafts, spooky crafts, creepy crafts, card crafts, greeting card crafts, invitation crafts, make halloween cards, make halloween inviations, halloween crafts, halloween crafts for kids, halloween crafts ideas, trick-or-treat crafts, crafts for kids, spooky crafts, creepy crafts,   crafts, arts and crafts, arts & crafts, arts and crafts for kids