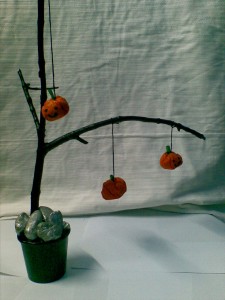 How to Make a Halloween Pumpkin Tree Craft for Kids
This Halloween tree will add a nice touch to your living room. And you don't even have to throw it away when Halloween is over. You can just remove the pumpkins and add stars and you'll have a Christmas tree.
Materials required:
Orange crepe paper
A dried branch
Rocks or pebbles
A disposable coffee cup
Acrylic paint- black, silver
Paintbrushes
Green colored paper
Permanent marker
Black thread
Scissors
Glue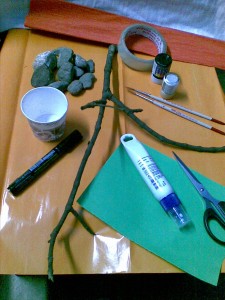 Step 1
Arrange the rocks and branch in the coffee cup so that it does not fall and is well balanced.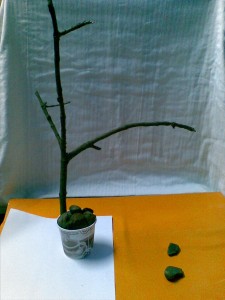 Step 2
Take out the rocks which are on top and paint them with silver Acrylic paint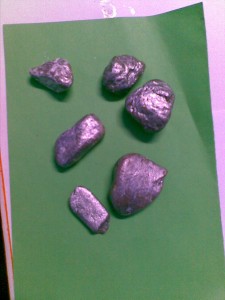 Step 3
Paint the coffee cup and the branch black with acrylic paint.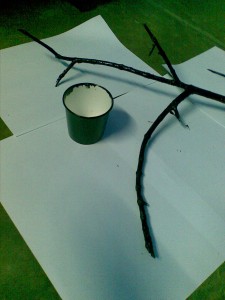 Step 4
To make the Pumpkins:
Cut out a piece of orange crepe paper about 1 ft x 9 inches . Fold it twice over as shown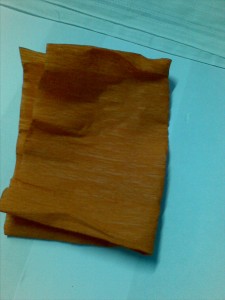 Step 5
Fold the sides into the centre as shown, to make a ball.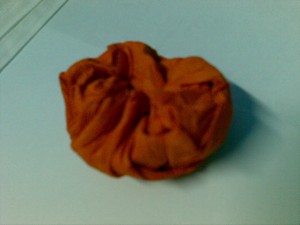 Step 6
Put some glue in the centre of the ball and press tightly together for twenty seconds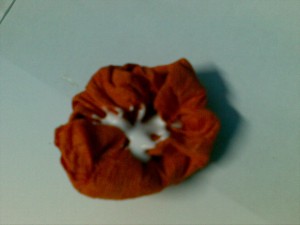 Step 7
Cut out a small piece of green paper and roll it to make a stalk.  Put some glue on the top of the pumpkin, and press in with a small stick or pencil to make space for the stalk. Put the thread into that space first, then the stalk and again hold the pumpkin ball tightly together for another twenty seconds.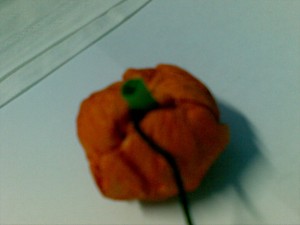 Step 8
Draw eyes and a mouth with a permanent marker. Make 2 more pumpkins the same way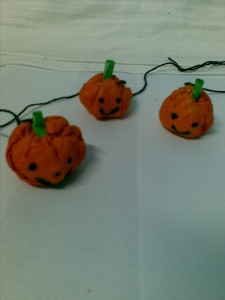 Step 9 – Finished Spooky Pumpkin Tree
Take the coffee cup, arrange the stones again with the painted ones on top. Hang the pumpkins from the branches.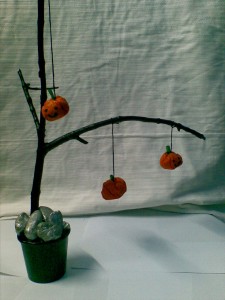 More Spooky Halloween Crafts Projects for Kids
Use our Main Halloween Crafts for Kids Page to find some great spooky arts and crafts project ideas for kids to celebrate Halloween such as and some of our sub-pages:
Halloween Costume Crafts Home Page
How to Make Indian Costumes (Native Americans)
How to Make Joker Costumes (Batman The Dark Knight)
How to Make Mouse / Mice Costumes
How to Make Superhero Costumes
How to Make Transformers Costumes
Technorati Tags: halloween decoration crafts, make halloween decorations, halloween tree crafts, halloween pumpkin crafts, tree crafts, pumpkin crafts, christmas tree crafts, scary crafts, spooky crafts, creepy crafts, halloween crafts, halloween crafts for kids, halloween crafts ideas, trick-or-treat crafts, crafts for kids, spooky crafts, creepy crafts, crafts, arts and crafts, arts & crafts, arts and crafts for kids