Halloween is right around the corner and I bet you have your house decorated, costumes picked out and you have been wearing your Halloween jewelry for weeks… but what about your phone?  Yes, I said your phone.  Is it decorated for Halloween?  How about carrying your phone in a Halloween decorated phone pouch.  Today I will show you how to make an easy and wonderfully cute night glow ghost pouch for your phone.  How cool is that?!
Check out our other Halloween Crafts.
Laura from Dacian Moon Handmade will show you how to make it, step by step.
CRAFT MATERIALS NEEDED:
– a piece of black leather (about 22 cm x 5 cm)
– needle and black thread
– scissors
– paints (matte white and night glow)
– black marker
– phone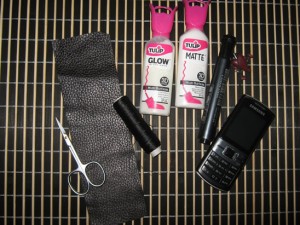 Step 1
Take the black leather and round its corners using the scissors…
… like this.
Place the phone inside it, the way you want your pouch to be.
Step 2
Take out the phone and keeping the leather folded, start sewing.
You should sew around the edge for 3-4 times (do not shrink the leather)…
… then go with the needle under the stitch…
… making a knot, like this.
Space 1 cm then sew again, the same way…
… until you finish the whole side. It should look like this.
Repeat on the other side.
Step 3
Using a pen draw the ghost on the front of the pouch.
Like this.
Then, using the white paint, draw the contour of the ghost. (Actually, you can paint all the ghost with white. It will look more uniform)
This is the contour 🙂
Step 4
Take the night glow paint and apply a generous layer inside the contour.
Like this.
Let it dry.
Step 5
When is completely dry, make the eyes with the black marker. (you can sketch them first with a pencil)
Add the mouth and that's all! You have a funny phone pouch!
I told you it was easy.  In no time at all you can be carrying around a festive Halloween ghost phone pouch too.  Nothing like having a ghost to protect your phone… so fun.
Technorati Tags: Halloween, Halloween Crafts, Ghosts, Ghost Crafts, leather, leather crafts, phone pouch, phone pouch craft