Christmas is coming up soon so it is time to start decorating the house with your arts and crafts projects and activities. This mini Christmas tree will look great on your window sill, or on the table this Christmas. All you need is some paper, scissors and glue. So get started right now- the instructions follow.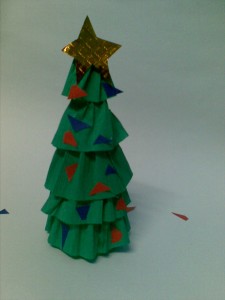 Make a Mini Christmas Tree Arts & Crafts Project & Activity for Kids
Craft materials required:
Thick paper- green
Crepe paper
Gold color paper
bits and pieces of colored paper
Scissors
Glue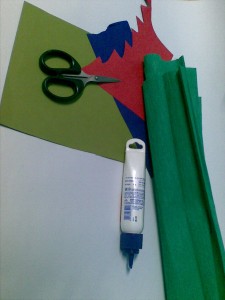 Step 1
Take a square of thick card paper and roll it to form a cone
Step 2
Cut the end of the cone to make it flat
Step 3
Cut a strip of crepe paper. Make sure the creases are as shown in the picture.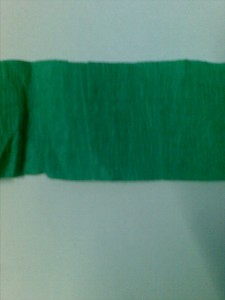 Step 4
Cut a piece slightly wider than the circumfrence of the lowest part of the cone.
Stick the ends together to form a ring.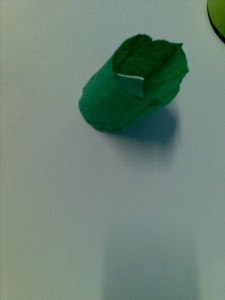 Step 5
Place the crepe paper ring in the cone. Apply glue on the cone as shown in the picture.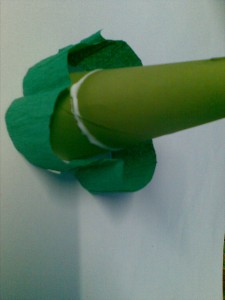 Step 6
Use 2 fingers to press small bits of the crepe paper together to make small folds while gluing the top edge of the paper ring to the cone, as shown.
Step 7
Cut another strip of paper, this time shorter in length and repeat the steps above.
Step 8
Repeat the procedure till the tree looks like this.
Step 9
Cut out a gold colored star and some paper bits of different colors to decorate the tree.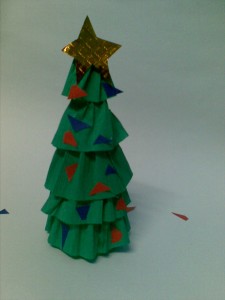 CHRISTMAS CRAFTS ACTIVITIES & IDEAS FOR KIDS
It is almost Christmas time so check out our Christmas Coloring Pages & Christmas Crafts for Kids Page to find some great Christmas crafts project ideas for kids to celebrate Xmas such as .. Advent Calendar Crafts ..Candy Cane Crafts ..Christmas Angel Crafts ..Christmas Cards Crafts ..Christmas Bells Crafts ..Christmas Coloring Pages .. Santa Coloring Pages .. Christmas Elf Crafts .. Christmas Gift Bags Crafts ..Christmas Gift Tags Crafts .. Christmas Games & Activities .. Christmas Nativity Scenes .. Christmas Soda Can Crafts .. Christmas Placemat Crafts ..Christmas Poinsettias Crafts .. Christmas Sewing Patterns .. Christmas Tree Crafts ..Christmas Tree Ornament Crafts ..Christmas Wreath Crafts ..Gingerbread House Crafts ..Gingerbread Man Crafts .. Mittens and Gloves Crafts ..Recycle Christmas Cards to Make Other Crafts ..Reindeer Crafts .. Winter Penguin Crafts .. Winter Snow Crafts .. Winter Solstice / Yule Crafts ..Santa Clause Crafts .. Santa Hats Crafts .. Santa's Sleigh Crafts ..Snowflake Crafts ..Snowman Crafts .. Stocking Crafts .. Wrapping Paper Craft
Technorati Tags: christmas tree crafts, tree crafts, make Christmas crafts, christmas trees,    making christmas trees,   christmas crafts for kids, christmas activities for kids, easy christmas crafts, crafts, crafts for kids, crafts ideas, christmas crafts, christmas arts and crafts, christmas, christmas activities, christmas crafts projects, christmas projects