Here's a pretty handmade bead card that your children's friends and family will be very impressed to see. Make sure you get the right kind of beads- flat on one side and rounded on the other. The simple instructions to make this Christmas card are given below.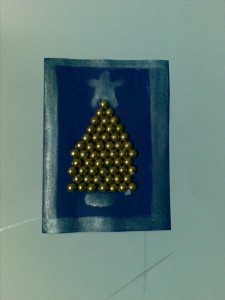 Materials Required:
Gold beads ( flat on one side)( see picture below)
Card paper
Silver paint
Brush
Glue
Scissors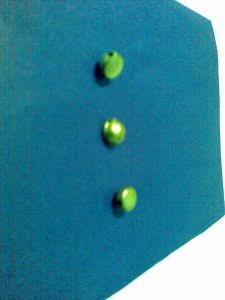 Step 1
Fold a piece of card paper into the size card that you want.
Step 2
Place one bead on the top middle as shown.
Step 3
Arrange 2 beads below it, 3 below the next row and so on.
Step 4
When you reach the lower part of the tree, you can do rows like 5,6,5,6 to give a zigzag effect of a christmas tree.
Step 5
Use silver paint to make a border and finish off the tree with a star. Allow it to dry, write a message to a friend for Christmas.
CHRISTMAS CRAFTS ACTIVITIES & IDEAS FOR KIDS
It is almost Christmas time so check out our Christmas Coloring Pages & Christmas Crafts for Kids Page to find some great Christmas crafts project ideas for kids to celebrate Xmas such as .. Advent Calendar Crafts ..Candy Cane Crafts ..Christmas Angel Crafts ..Christmas Cards Crafts ..Christmas Bells Crafts ..Christmas Coloring Pages .. Santa Coloring Pages .. Christmas Elf Crafts .. Christmas Gift Bags Crafts ..Christmas Gift Tags Crafts .. Christmas Games & Activities .. Christmas Nativity Scenes .. Christmas Soda Can Crafts .. Christmas Placemat Crafts ..Christmas Poinsettias Crafts .. Christmas Sewing Patterns .. Christmas Tree Crafts ..Christmas Tree Ornament Crafts ..Christmas Wreath Crafts ..Gingerbread House Crafts ..Gingerbread Man Crafts .. Mittens and Gloves Crafts ..Recycle Christmas Cards to Make Other Crafts ..Reindeer Crafts .. Winter Penguin Crafts .. Winter Snow Crafts .. Winter Solstice / Yule Crafts ..Santa Clause Crafts .. Santa Hats Crafts .. Santa's Sleigh Crafts ..Snowflake Crafts ..Snowman Crafts .. Stocking Crafts .. Wrapping Paper Craft
Technorati Tags: christmas card crafts, card crafts, make Christmas cards, greeting cards, greeting card crafts, making christmas cards, christmas caeds  crafts, card crafts for kids, christmas crafts for kids, christmas activities for kids, easy card crafts, christmas card crafts for kids, christmas cards, christmas card crafts for kids,   crafts, crafts for kids, crafts ideas, christmas crafts, christmas arts and crafts, christmas, christmas activities, christmas crafts projects, christmas projects