Christmas is coming up soon and this is the day that baby Jesus was born. How about making a tiny manger for the baby of Christmas, Jesus and a part of your Nativity Scene with a toilet paper roll. The step by step instructions are given below.
How to Make Jesus in a Manger for Nativity Scene Arts and Crafts Project for Christmas
Craft materials required:
Toilet paper roll
White scrap cloth
Scissors
Black and brown markers
Colored paper- hay colors
Step 1
Cut the paper roll through the center as shown.
Step 2
Cut a piece of  the toilet paper roll as shown.
Step 3
Color with black and brown markers as shown.
Step 4
Glue the other piece of the toilet roll upside down on it as shown.
Step 5
Cut thin strips of paper and glue them as shown.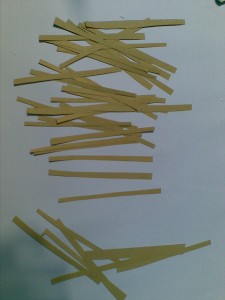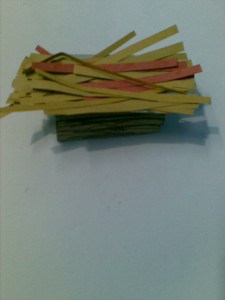 Step 6
Cut out a shape for the baby as shown. Draw eyes and a mouth.
Step 7
Wrap with scrap cloths. Use tape to hold it in place.
Step 8
Wrap some more cloth loosely and place the baby on the manger.
CHRISTMAS CRAFTS ACTIVITIES & IDEAS FOR KIDS
It is almost Christmas time so check out our Christmas Coloring Pages & Christmas Crafts for Kids Page to find some great Christmas crafts project ideas for kids to celebrate Xmas such as .. Advent Calendar Crafts ..Candy Cane Crafts ..Christmas Angel Crafts ..Christmas Cards Crafts ..Christmas Bells Crafts ..Christmas Coloring Pages .. Santa Coloring Pages .. Christmas Elf Crafts .. Christmas Gift Bags Crafts ..Christmas Gift Tags Crafts .. Christmas Games & Activities .. Christmas Nativity Scenes .. Christmas Soda Can Crafts .. Christmas Placemat Crafts ..Christmas Poinsettias Crafts .. Christmas Sewing Patterns .. Christmas Tree Crafts ..Christmas Tree Ornament Crafts ..Christmas Wreath Crafts ..Gingerbread House Crafts ..Gingerbread Man Crafts .. Mittens and Gloves Crafts ..Recycle Christmas Cards to Make Other Crafts ..Reindeer Crafts .. Winter Penguin Crafts .. Winter Snow Crafts .. Winter Solstice / Yule Crafts ..Santa Clause Crafts .. Santa Hats Crafts .. Santa's Sleigh Crafts ..Snowflake Crafts ..Snowman Crafts .. Stocking Crafts .. Wrapping Paper Craft
Technorati Tags: jesus crafts, baby jesus crafts, nativity scene crafts, manger crafts, baby  manger crafts, nativity crats, baby jesus crafts, christmas crafts, christmas crafts for kids, church crafts,   crafts for kids, crafts ideas for kids, arts and crafts, arts & crafts, arts and crafts ideas for kids, crafts ideas for children, winter activities, fun crafts for kids