I have an easy craft for you today since the last two crafts I posted were a bit more complicated.  Today I'm going to show you how to Make a Set of Christmas Napkins perfect for the Holiday Season.  You can choose to use them to decorate your Holiday table or give them as a gift.  The choice is yours.  So, let's get started.
Check out our other Christmas Crafts.
Materials Needed



Acrylic Glitter Glue – gold, green
Plain Red Napkins
Crayon
Step 1
Wash, dry and iron the red napkin (you don't want it to shrink after you write on it).
Step 2
Write or draw the design you want with crayon. Be as creative as you like.
Step 3
Go over the crayon writing with acrylic glitter glue.  Do it slowly and make sure you do not spread it over any other part of the napkin.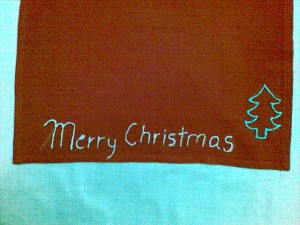 Step 4
Allow it to dry overnight. Iron on the back of the napkin. Your napkin can now be packed and gifted or used by you for the Holiday Season.
Feel free to eat wildly from now thru the entire Christmas Season because washing it gently with water and soap will not ruin the design.  So, did you decide to give these Christmas Napkins as a gift or did you keep them for yourself?  Let me know in the comments below.  Also, let me know how your Christmas Napkins turned out by taking a picture of them and posting them with your comment.
Technorati Tags: Christmas crafts, xmas crafts, Christmas activities, xmas activities, December crafts, Holiday crafts, Holiday activities, decorations, Christmas decorations, Christmas decoration crafts, Christmas napkins, Christmas napkins craft