Valentine's Day is just around the corner.  And, with Valentine's Day comes what?  Valentines Cards, of course.  Store bought Valentine's Day cards can be expensive….. plus, they can be extremely boring.  How about making your own Valentine's Day Card.  Imagine the surprise of the receiver to receive a handmade card from you.  Plus this card is so cute…. no one can resist it.  So, grab the materials needed and let's get started.
Check out our other Valentines Day crafts.
This tutorial is offered by Laura from Dacian Moon Handmade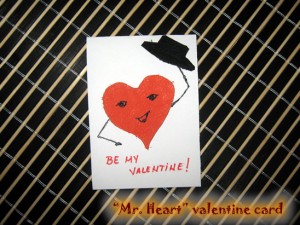 CRAFTS MATERIALS NEEDED:
– paper (not too thin)
– scissors
– two pieces of leather (red and black)
– glue
– paints
– toothpick
– pencil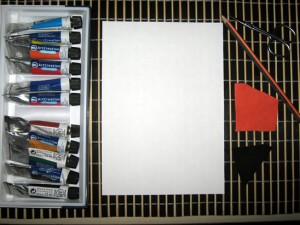 Step 1
Step 2
Draw with your pencil a heart on the red leather…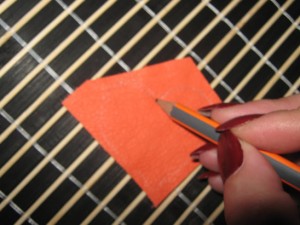 Step 3
Draw a hat on the black leather.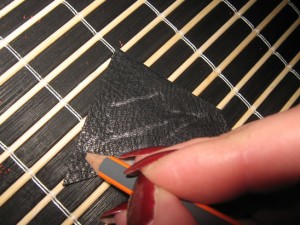 Step 4
Apply a good layer of glue on the back side of the heart…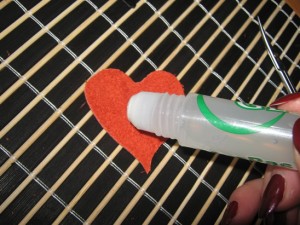 … and place it on the middle of the folded paper.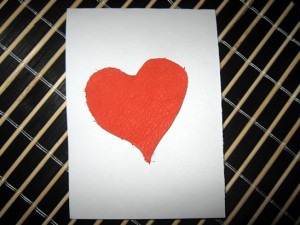 Step 5
Take the toothpick and use it to paint with black paint the eyes and the mouth on the Heart.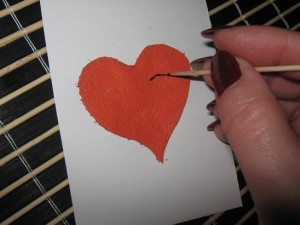 We use a toothpick because with it we can make more thin traces and it will give us accuracy.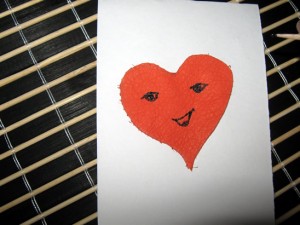 Now draw the hands with black paint on the heart.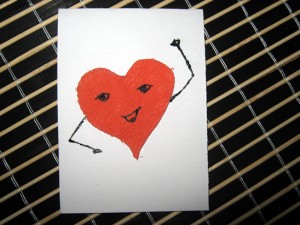 Step 6
Apply a good layer of glue on the back side of the hat…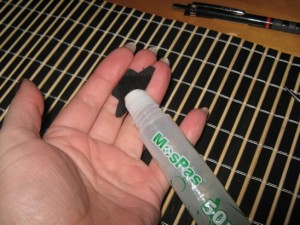 … and place it on one hand of the heart.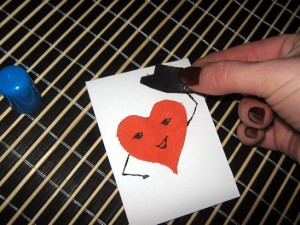 Step 7
Write with red "Be my Valentine".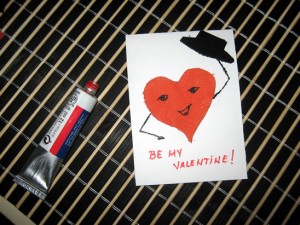 How could someone resist this cute heart?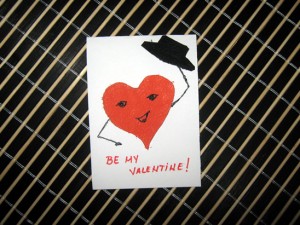 Now the outside of your Valentine's Card is done…… write something on the inside and your card is ready to hand out to someone special.  Now the real question is….. who is this someone special?  hmmmm….
Technorati Tags: valentines day cards, valentines day crafts, valentines, valentines day, hearts, heart cards, hearts crafts, heart and arrows, kids crafts, crafts for kids, St Valentines Day crafts. Valentines Card Crafts