I have a super fun and easy craft for you today.  I'm going to show you how to make a Popcorn Bracelet.  This just might be the only jewelry you can make that while you make it you can eat it as well.  Just keep it mind that once you have painted the popcorn you CAN NOT eat it.  But, until the popcorn has been painted it is a tasty treat.  So, grab your friends, a good movie to watch and some popcorn and let's make this fun craft.
Check out our other Jewelry Crafts.
Tutorial offered by Laura from Dacian Moon Handmade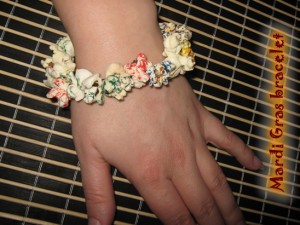 Materials Needed
– popcorn
– thread and needle
– paints
– paintbrush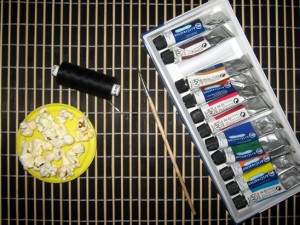 Step 1
Paint the popcorn in your favorite colors.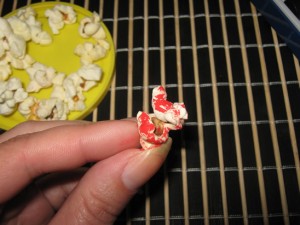 Step 2
Step 3
Make a knot on one side of the thread, leaving enough extra thread to tie the bracelet.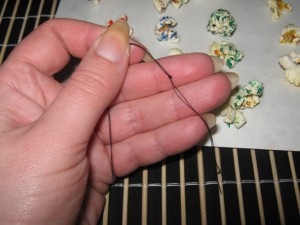 Step 4
Start placing the popcorn on the thread, using the needle.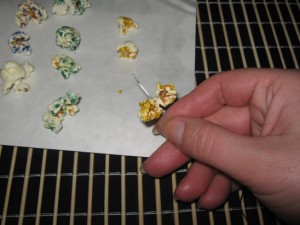 Step 5
After the last popcorn is on the thread, make another knot near it…. and cut the thread (letting again enough extra thread to tie the bracelet).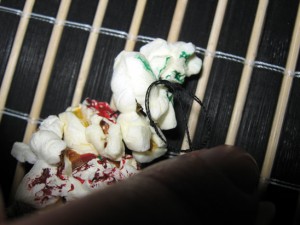 Now, you have a cute bracelet.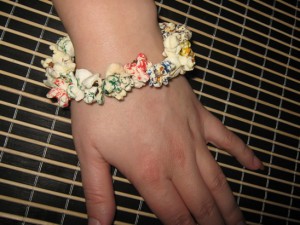 Isn't that adorable?  And, it was so much fun to make, wasn't it?    How did your Popcorn Bracelet turn out?  Let me know in the comments below.  And, take a picture of the Popcorn Bracelet and add that to the comment as well… I'd love to see it.
Technorati Tags: craft ideas, crafts for kids, popcorn, popcorn crafts, popcorn arts and crafts, popcorn activities, popcorn bracelet, bracelet crafts, jewelry crafts, jewelry crafts for kids, bracelet crafts for kids, popcorn jewelry, popcorn jewelry crafts, popcorn jewelry crafts for kids